45 Things to Do on St. John, U.S. Virgin Islands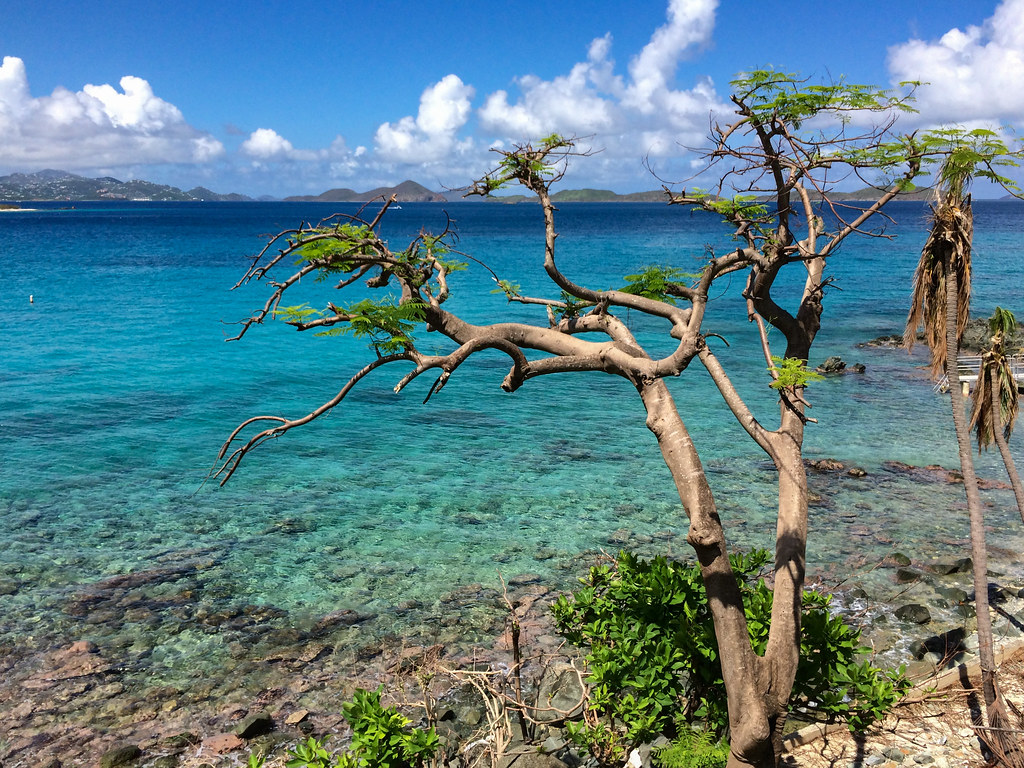 Credit: LouisvilleUSACE (CC BY 2.0)
Is it worth it to go to St. John? With its breathtaking scenery, unique and thriving local culture, and unforgettable activities, a St. John vacation is more than worth it! Here at StJohnTour.com, we are passionate about spreading the word on the abundance of fun, beauty, adventure, and relaxation that St. John has to offer. You will discover soft, sugary white sands and breathtaking vistas on this lovely island.
Where Is St. John?
St. John is the smallest island of the U.S. Virgin Islands, located in the eastern Caribbean Sea just east of St. Thomas and about 80 miles from Puerto Rico.
How Long Should You Stay on St. John?
Many travel enthusiasts recommend spending about a week to have the most fulfilling vacation on St. John possible.
What Are the Best Months to Visit St. John?
Mid-December to April is considered the best season to visit St. John, but that also means it is the busiest, so plan accordingly.
How Big Is St. John?
St. John is just around 20 square miles. Don't let its humble size fool you, though — it's a treasure trove of priceless experiences to be had!
Is St. John Better Than St. Thomas?
That depends on the experience you're seeking! St. Thomas is more heavily populated, has more lodging options, and is more developed than St. John. It is also the busiest cruise port in the Caribbean, which contributes to a thriving nightlife scene. However, fewer people and less development means more pristine beauty to experience. FueledbyWanderlust.com eloquently states, "Things are simultaneously simple and spectacular on St. John, with the island being two-thirds national park. Rather than shopping or hanging at a resort, in St. John, most of your time will be spent among beautiful natural surroundings."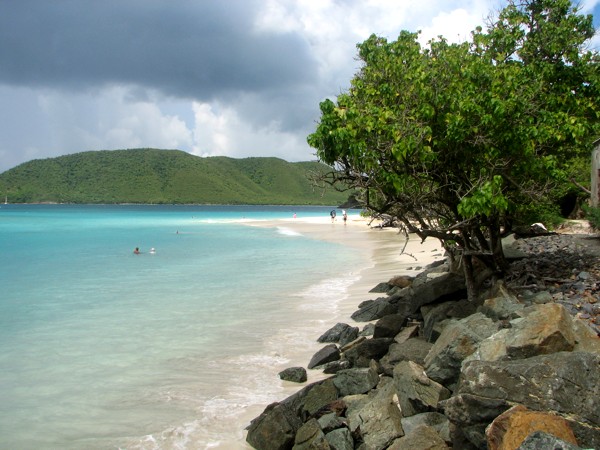 Cinnamon Bay Beach
Many St. John beaches are protected as part of Virgin Islands National Park, which keeps them in a lush, clean, undeveloped state. That does not mean that visitors are forbidden from enjoying recreational activities in the gorgeous waters, though. The National Park Service says it best: "Lush, tropical Virgin Islands National Park draws tourists from all over the world to enjoy the scenery and beautiful beaches; snorkel, swim, and sail in the waters; picnic; and camp. But visitors should not miss the opportunity to learn about the native peoples, European colonists, and enslaved Africans who peopled this paradise by visiting the fascinating historic sites that tell their stories." So not only can you enjoy the scenery, but you can soak up the compelling history of St. John, too.
St. John also has superior hiking opportunities. St. John hiking trails have a total rating of 4.4 stars with 4,702 reviews on AllTrails. St. Thomas has a total rating of 3.8 with 486 reviews. So is St. John good for hiking? The numbers speak for themselves! All in all, St. John is a tropical paradise for those who like to stay active as well as enjoy lush, sugar-sand beaches. In fact, several of St. John's best beaches are only accessible by hiking.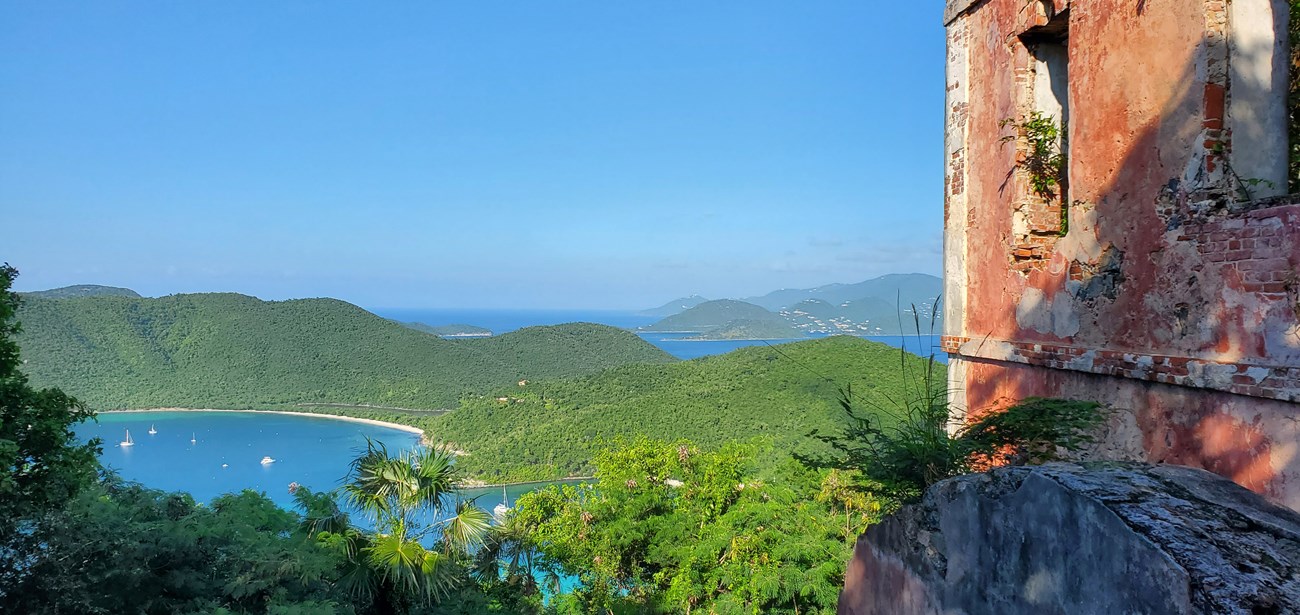 America Hill ruins with a panaromic view of Francis Bay, Maho Bay, and Mary's Point. Credit: National Park Service
Is St. John or St. Thomas Better for a Honeymoon?
While both islands offer romantic delights, St. John's nickname is "Love City" for a reason. It provides a more intimate, pure, and lavish setting for couples to indulge in newlywed bliss. In fact, one of St. John's most famous beaches is called Honeymoon Beach! St. John also earned its moniker through its laid-back culture, welcoming hospitality, and local pride. It is home to many artisans who cherish its unique tropical vibe. Many locals are eager to let visitors in on St. John hidden gems. Be sure to check out TripAdvisor's list of best things to do on St. John for couples and the best romantic St. John hotels.
Without further ado, let's explore some fun things to do on St. John!
The Best Things to Do on St. John
If you are wondering how to spend a day on St. John, we have you covered. To begin, let's explore the essential things to do on St. John based on review websites, travel blogs, personal experiences, and more. After that, we will venture into more specific categories of the best St. John activities to help make your St. John vacation unique and special to you.
1. Go Snorkeling!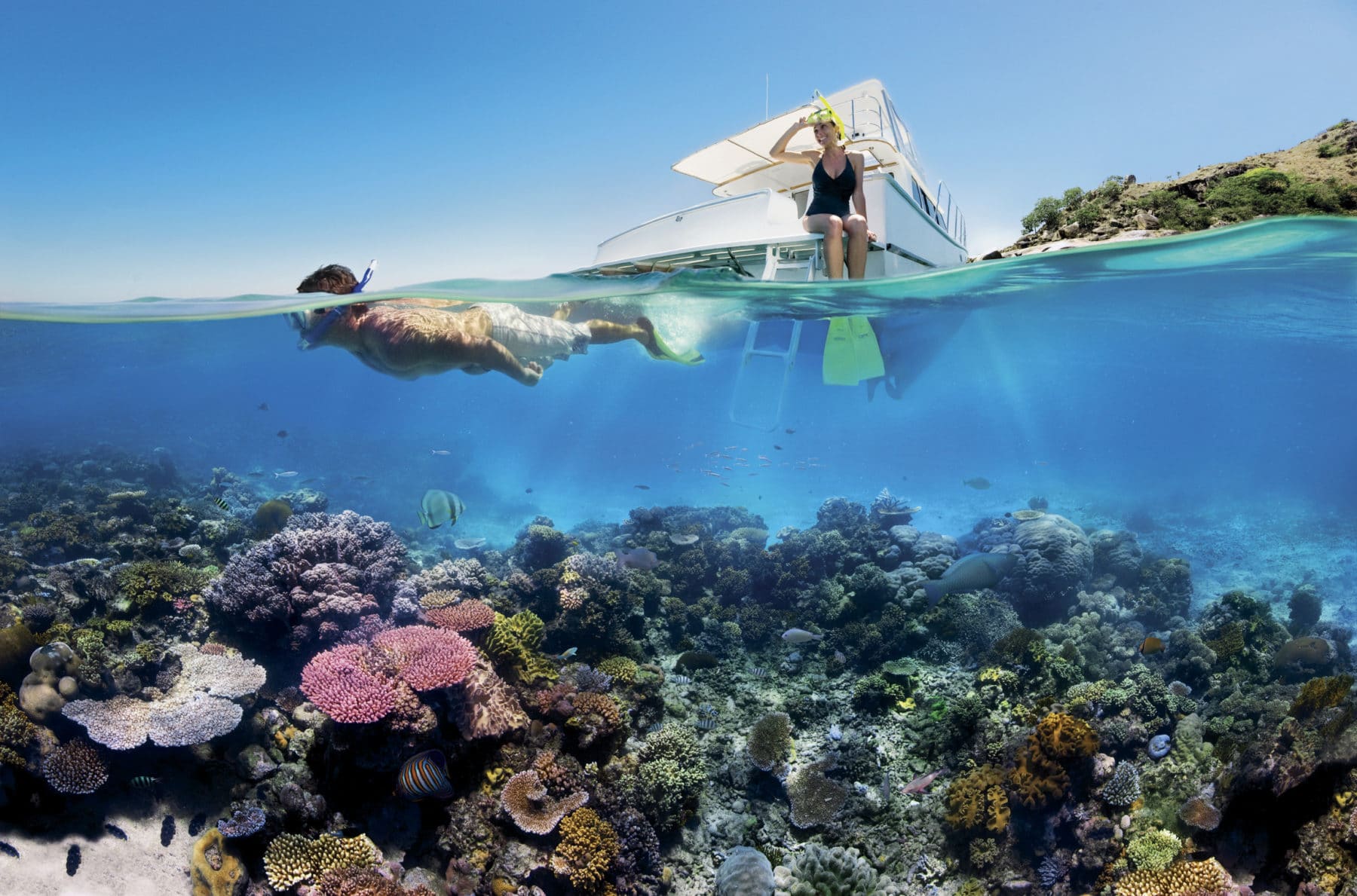 Credit: Windspree Vacation Homes
Snorkeling on St. John is considered a must-do experience. One of the reasons why St. John is one of the best snorkeling destinations in the world is because around 60% of the island is protected by Virgin Islands National Park. Beyond the soft, sandy beaches that lead to snorkeling access, you will discover shallow coral reefs that are home to a dazzling diversity of marine life. Just imagine sliding into crystal-clear turquoise waters to find a rainbow of flora and fauna made possible by careful conservation! Check out the National Park Service's guide to St. John fish you could spot during your St. John vacation.
There are many all-inclusive snorkeling tours on St. John to choose from, which will provide gear, instructions, and fascinating insights into the stunning array of underwater creatures you are sure to witness. You can browse an assortment of the best snorkeling tours on St. John on TripAdvisor, many of which include perks such as food and beverages. The best places to snorkel on St. John include Waterlemon Cay, Henley Cay, Haulover North, Trunk Bay, and Hansen Bay.
2. Experience Lime Out, St. John's Famous Floating Taco Restaurant
Nestled in majestic Coral Bay Harbor, Lime Out is an absolute must-experience on St. John. Guests can chow down on mouthwatering tacos while lounging on floating dining "booths" or swim up to the wooden bar that surrounded the taco boat. Can you swim out to Lime Out? No, but there are many great charter companies that offer a variety of ways to access and enjoy Lime Out, including a full-day snorkel sail with a taco lunch and open bar!
3. Swim With Sea Turtles at Maho Beach
Snorkeling is one of the best attractions on St. John, and Maho Beach is one of the most ideal places for spotting and swimming with turtles. Here is a St. John travel tip — invest in a full-face snorkel mask. While there are many snorkeling tours to choose from, having a mask of your own can make it easier to have an impromptu snorkeling soiree with the local wildlife. They're worth shelling out some bucks for!
Check out this St. John Maho Bay swimming with sea turtles video from LAVA Lifestyle Co.:
4. Visit Trunk Bay Beach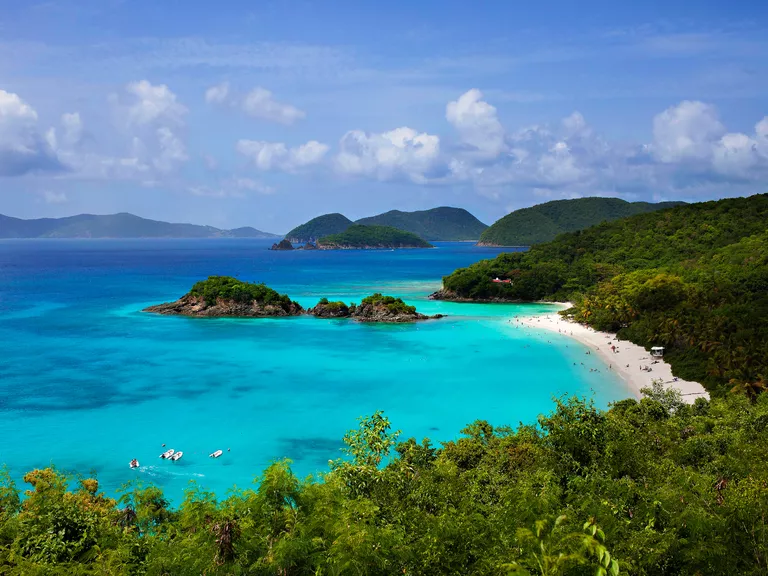 Credit: The Knot
Trunk Bay Beach is considered to be the most famous beach on St. John. It offers a quarter of a mile of smooth, ivory sands and see-it-to-believe-it aquamarine waters. It is St. John's most visited beach and one of the most photographed beaches in the United States Virgin Islands for good reason. It also ranked first in The Knot's 10 Instagram-Worthy Beach Honeymoons! Check out the 650-foot self-guided Underwater Snorkeling Trial, which is fantastic for first-timers and children.
5. Shop at Mongoose Junction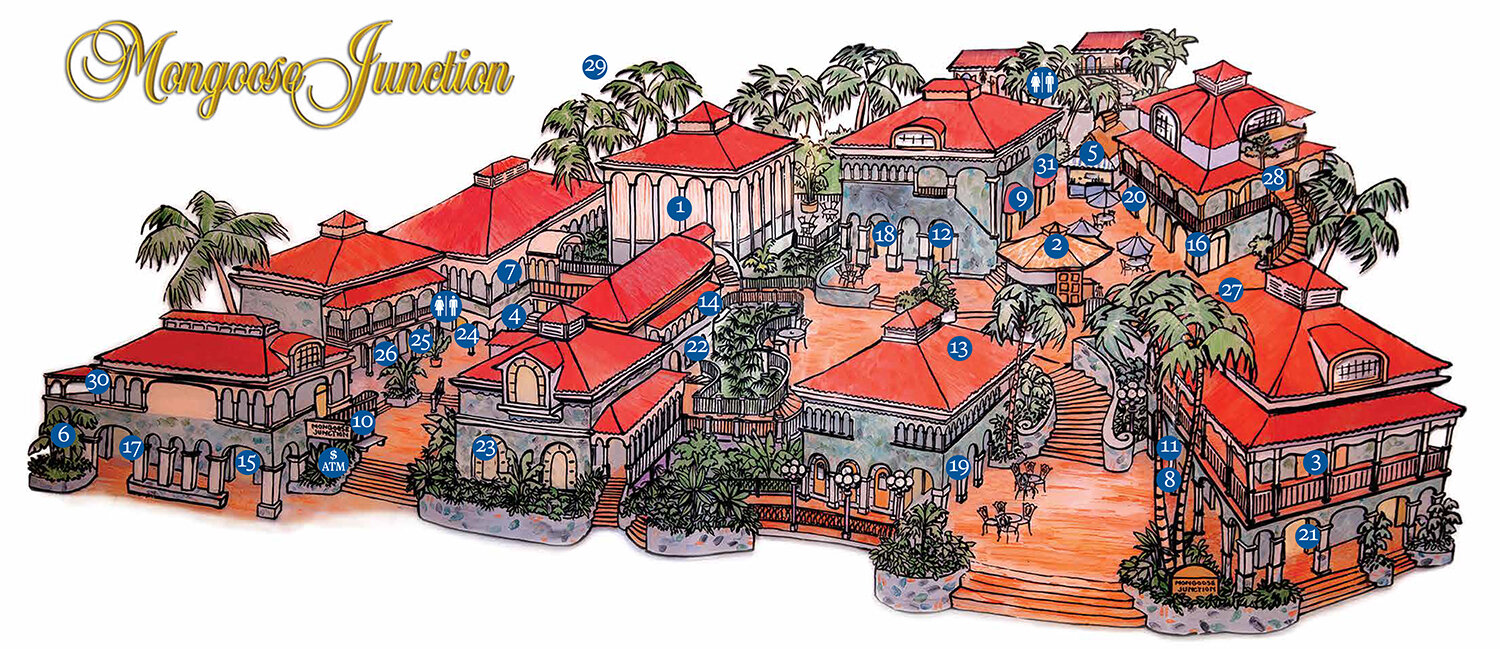 Credit: MongooseJunctionStJohn.com
Even shopping on St. John is a visual feast. Mongoose Junction is St. John's premier shopping and dining location, known for its vibrant, eccentric architecture and fun events, including live music and performances. Here's what the Mongoose Junction website has to say: "Shop beach necessities, find that perfect St. John gift, and be spoiled for choice by the wide selection of local and duty-free jewelry, including the got-to-have-one hook bracelet. Mongoose Junction stores also carry a lovely selection of home decor items; clothing for adventuring, beaching; and partying; and artwork by local artists and photographers." Sounds like a shopping paradise!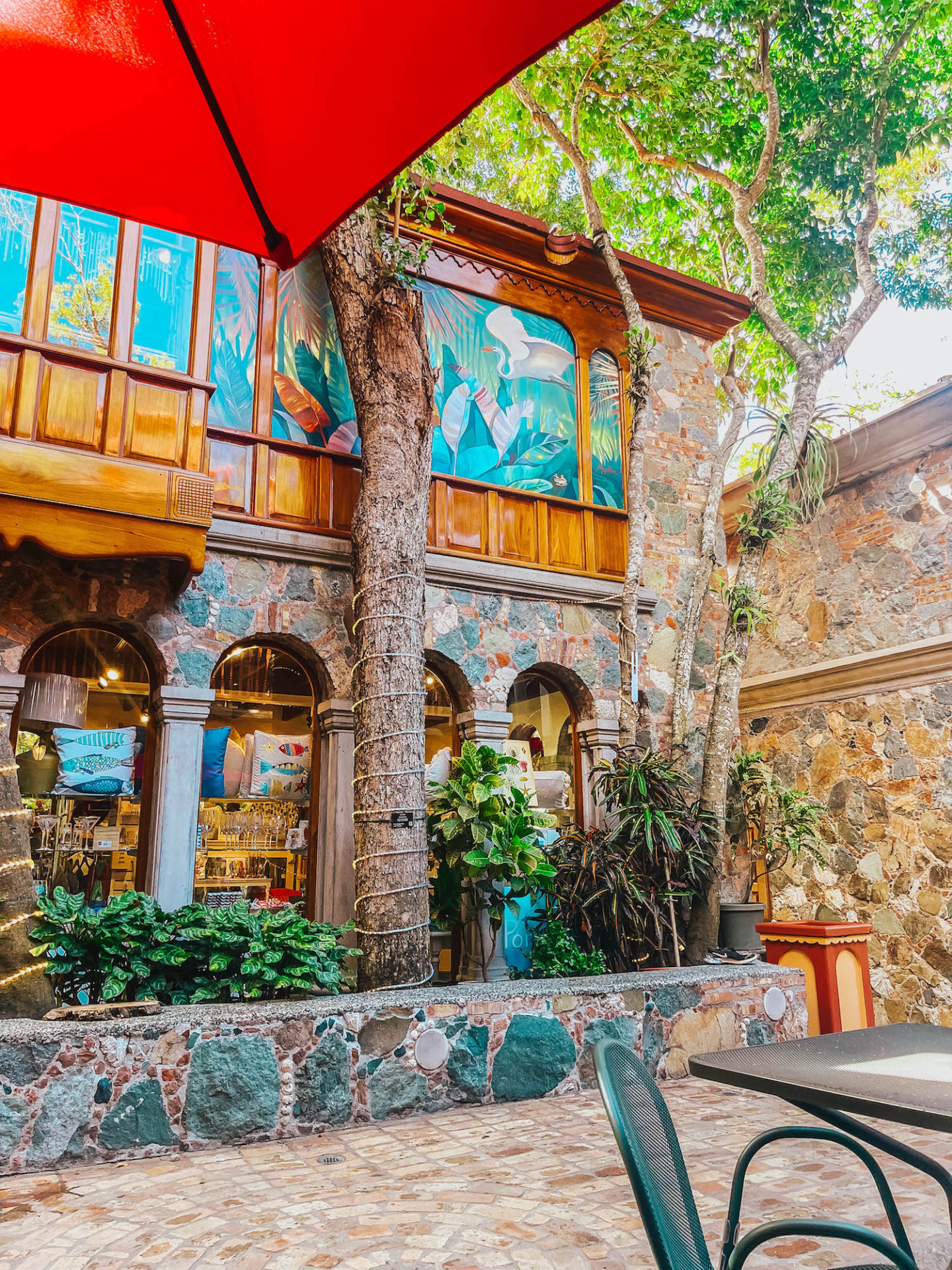 Credit: Holly Habeck
6. Enjoy a Day Charter Trip
Chartering a boat on St. John can grant you access to all the best attractions on St. John. You can simply venture out and witness the spectacular sights or hit up the most popular snorkeling spots on St. John, visit the famous St. John taco boat, or explore any number of other delightful possibilities. There are many St. John charter boat tours to choose from, offering a variety of destinations and included features at a variety of price points.
7. Visit Maho Bay Beach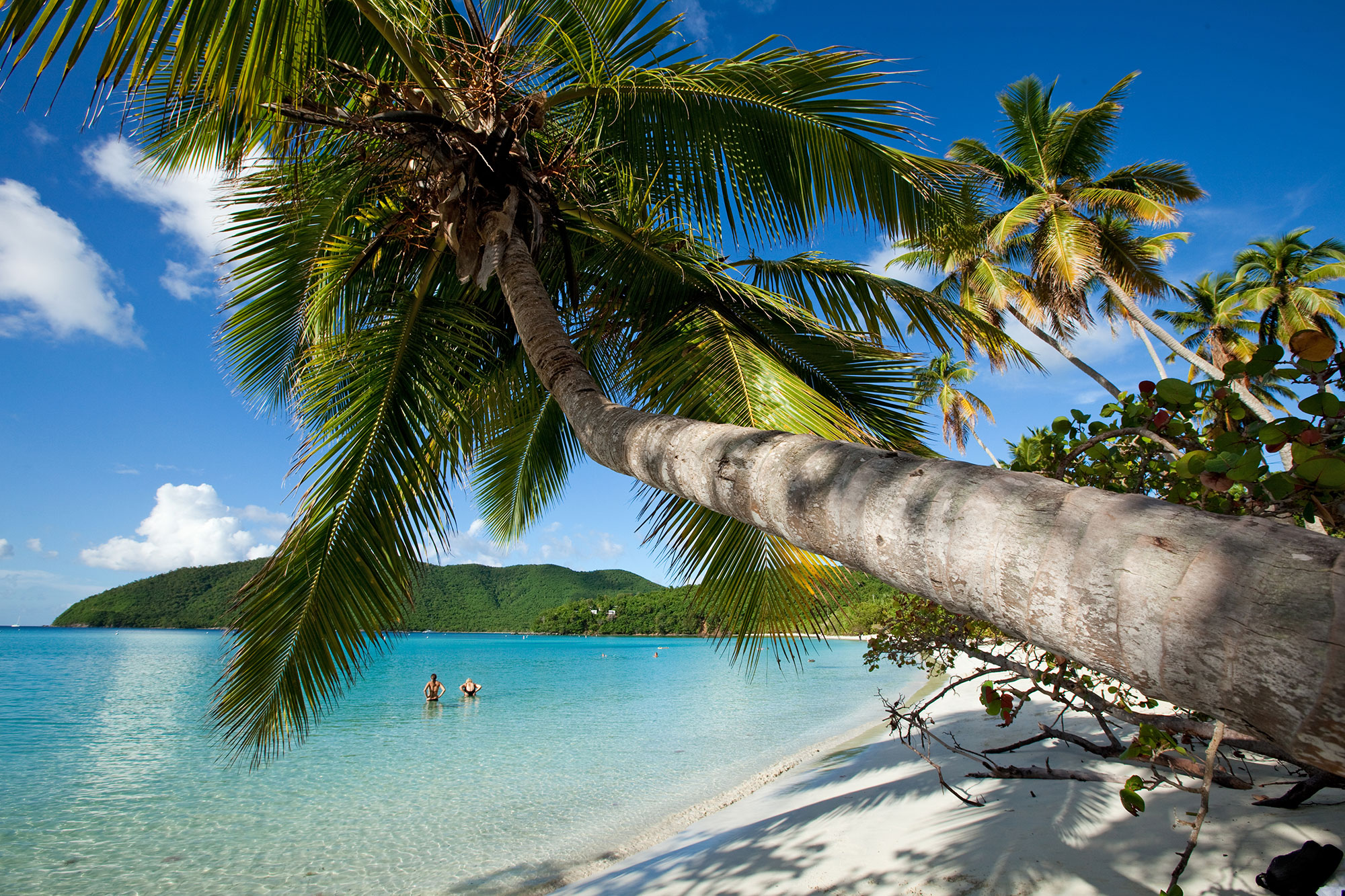 Credit: Trust for Public Land
Maho Bay Beach is another pristine tropical gem and one of the best St. John beaches for many reasons. Not only does it have brilliant views, but there are plenty of amenities that other beaches may not have, such as water sport rentals, food trucks, and tiki bars. It is also a hot spot to hang out with wild donkeys! Many of the boat charters departing St. John or St. Thomas make a special stop at Maho Bay because it is a great place to swim with St. John marine life.
8. Take a Sunset Cruise
If you want to experience a once-in-a-lifetime sunset sail, St. John is the place to do it. There are countless St. John sunset cruises to choose from, so you are sure to find one that fits your criteria.
9. Enjoy Some Peace and Quiet at Denis Bay Beach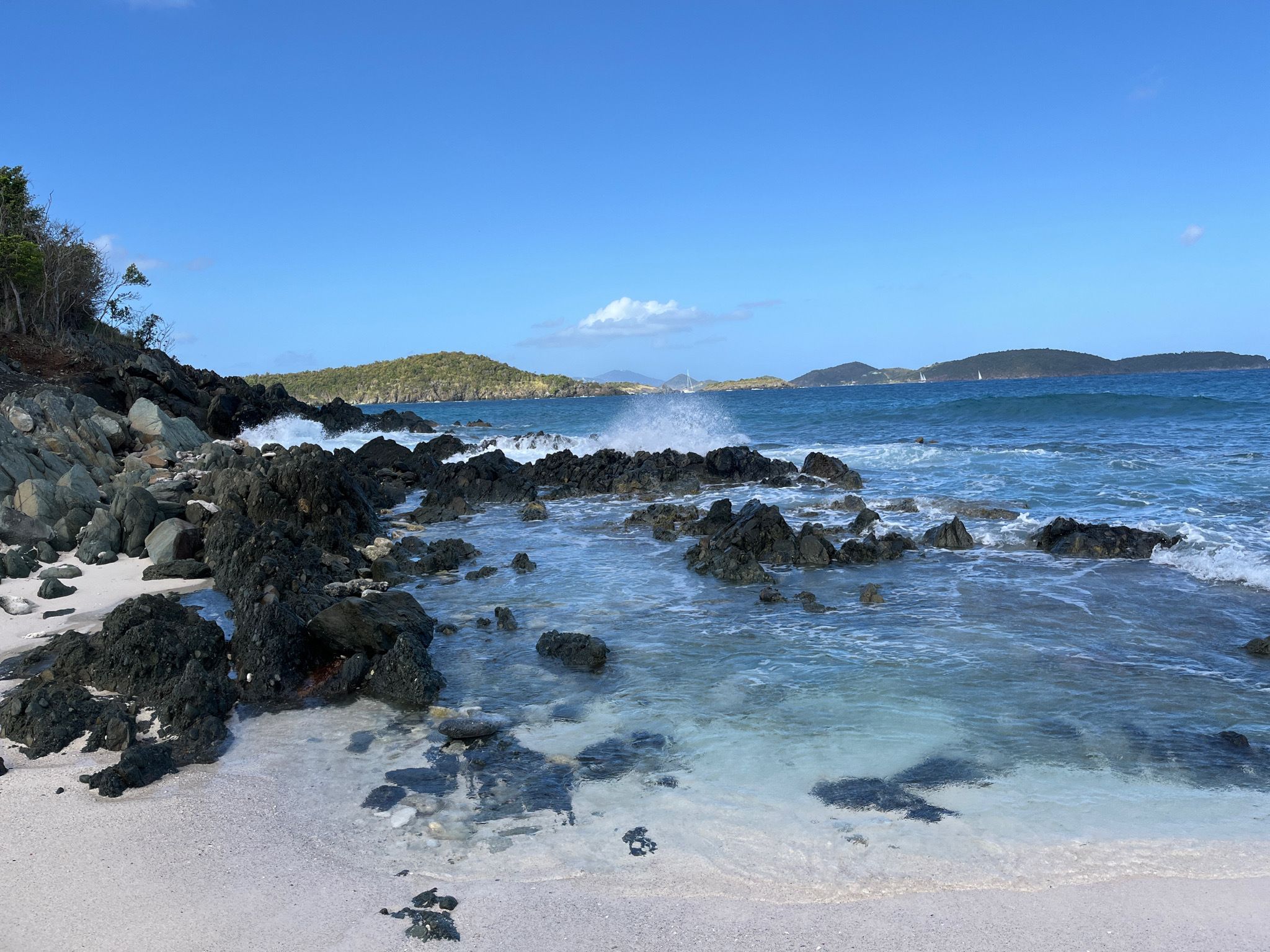 Credit: Tim Bayuk on AllTrails
Do you long for a secret beach on St. John, away from the hustle and bustle? Denis Bay's beach is only accessible by a short forested trail or by boat, so that means you may have the good fortune of enjoying this enchanting paradise all to yourself. It has a more wild, rugged feel than the more popular beaches on St. John; the powdery white sands contrast exquisitely with the rocky outcroppings that local anglers sometimes frequent. Unlike many other St. John beaches, Denis Beach is exposed to moderate to large northern swells, so it is definitely a unique place to witness the raw beauty of St. John.
10. Buy Award-Winning Spices From the St. John Spice Company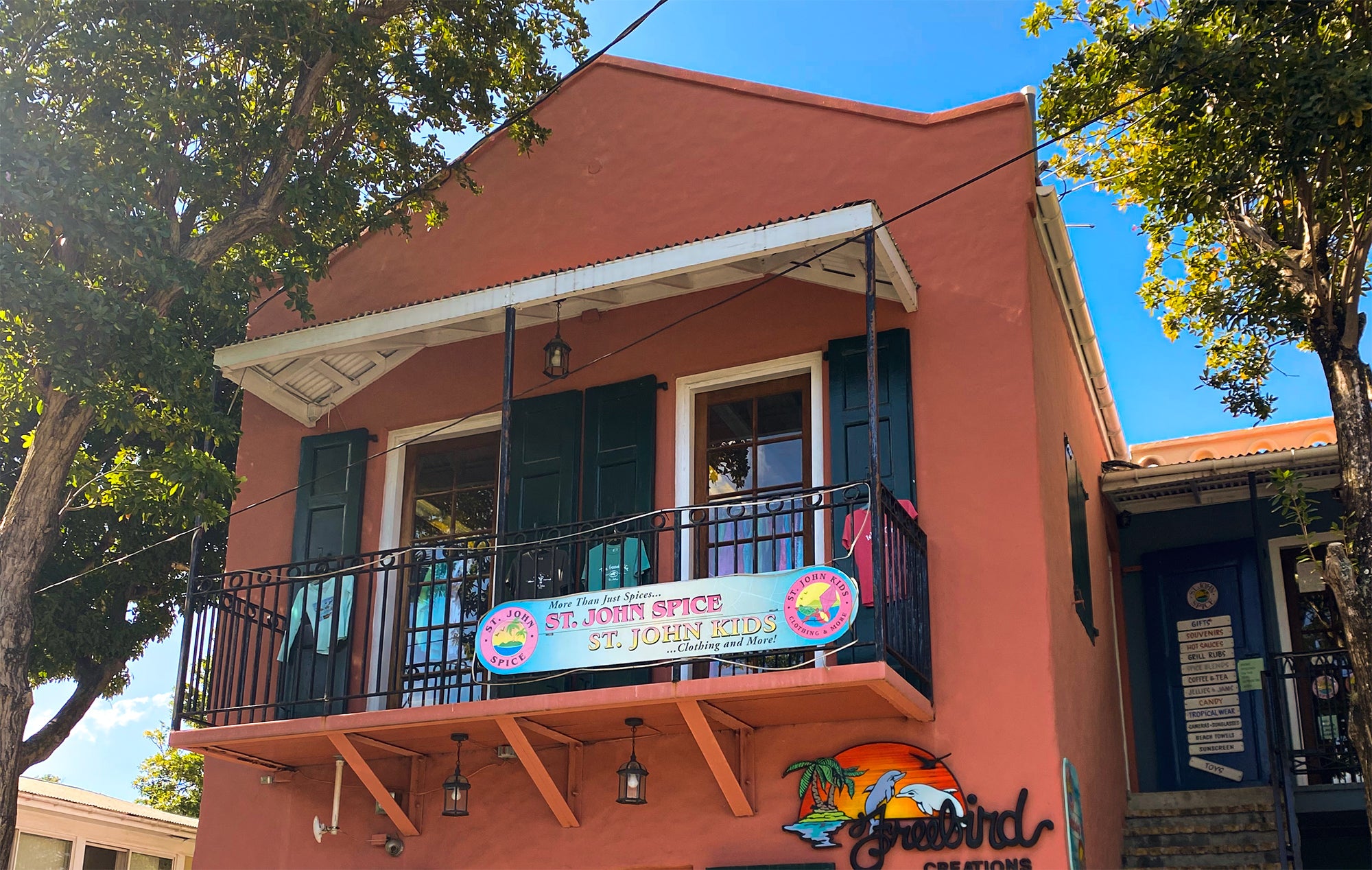 Credit: StJohnSpice.com
If you are a fan of flavor, especially with a Caribbean flair, be sure to visit the St. John Spice Company. St. John Spice's bestselling product and winner of a 2010 Scovie Award (a contest for fiery, flavorful foods) is the Cruz Bay Grill Rub. It is packed with roasted garlic, onions, peppers, nutmeg, cinnamon, fennel, and other spices. The shop is stocked with more than just spices, though — you can also find a top-notch assortment of St. John souvenirs, St. John art prints, and much more. You can also watch the live webcam that they installed on their building, showing the ferry dock in Cruz Bay.
11. Visit Waterlemon Cay
Waterlemon Cay is considered the best place for snorkeling on St. John and is also one of the most photographed places in Virgin Islands National Park. It is a precious little gem of an island with crystal-clear waters, soft sands, abundant corals, and a dazzling array of aquatic life to admire. The short hike (or swim, depending on the tides) required to reach it helps reduce crowding, so it can serve as a peaceful refuge to relax and explore.
12. Visit the Annaberg Plantation Ruins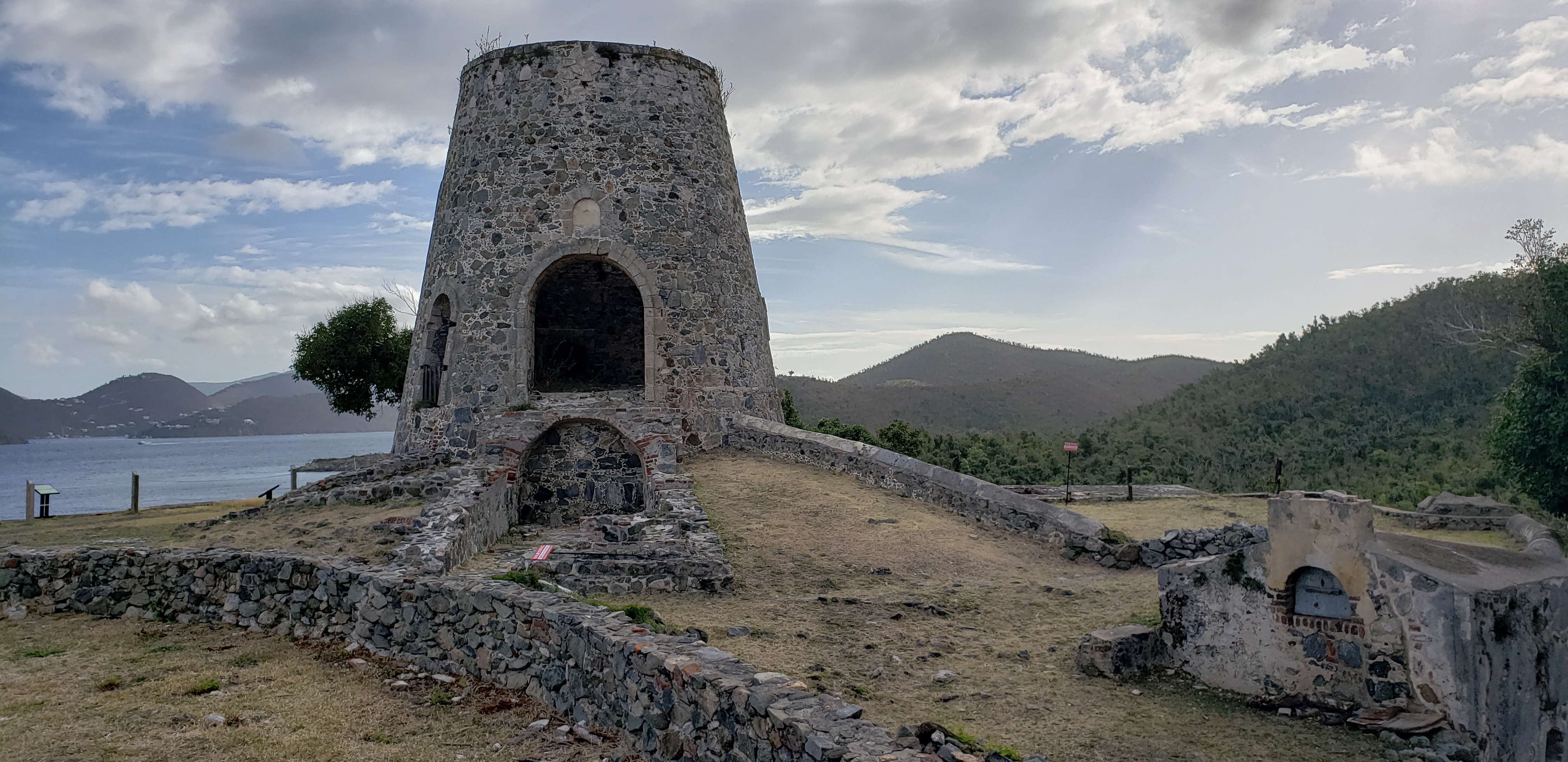 Credit: Pi3.124 (CC BY-SA 4.0)
Waterlemon Cay and the Annaberg Plantation ruins share a parking lot, so you can enjoy two invaluable experiences in one trip. If you are looking for historical things to do on St. John, this is the place! The National Park Service describes it as the most accessible historic plantation site in Virgin Islands National Park. As you explore the striking, well-preserved ruins, you will learn about the global market for sugar that fueled the brutality of slavery and colonialism in the Virgin Islands. You will also develop a more profound understanding of the oppression, resistance, and infallible culture of enslaved people on St. John. If you are interested in the history of St. John and the history of the U.S. Virgin Islands, this is a must-visit. There are many other ruins in the area as well, including the impressive Old Danish Guardhouse.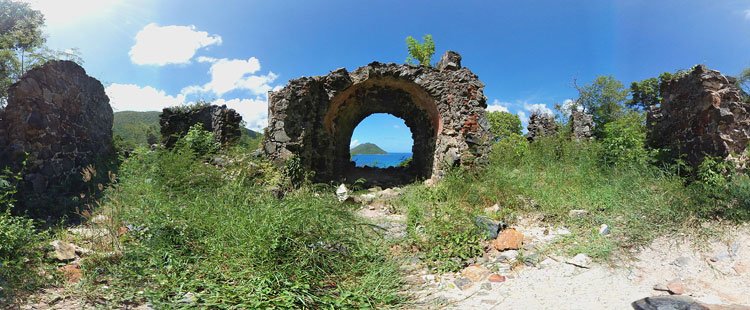 Credit: Waterlemon-cay.com
13. Visit the Bajo el Sol Gallery, Art Bar, and Rum Room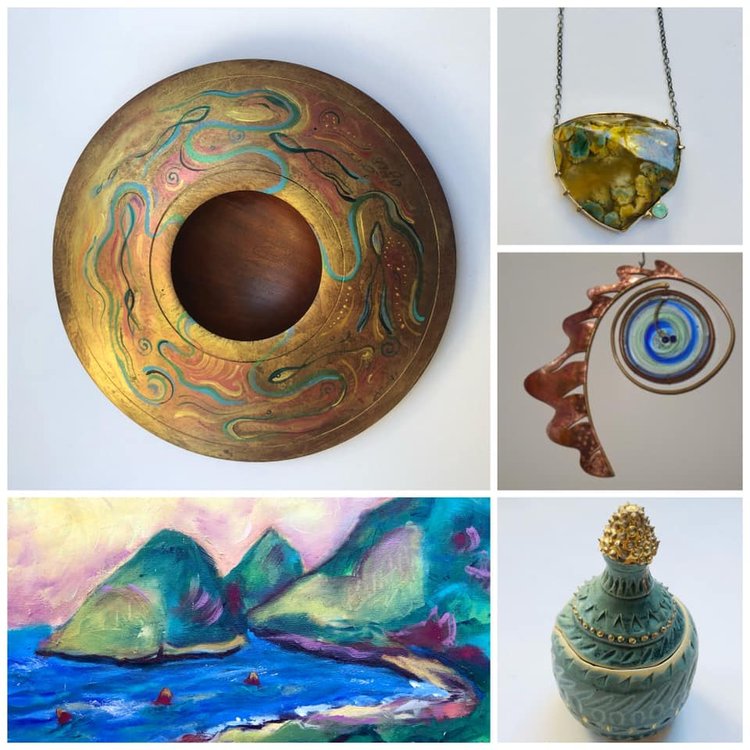 This is just as quirky and magical as it sounds. Located in Mongoose Junction, this cultural treasure trove serves as a hybrid art gallery, bookstore, cafe, and rum and cocktail bar. It is dedicated to showcasing Virgin Islands fine art and Virgin Islands culture. Curator Priscilla Hintz Rivera and writer David Knight Jr. took the helm of the gallery in 2016 and are passionate about celebrating Caribbean history and the ever-evolving, vibrant currents of St. John society. There are frequent artist talks, poetry readings, film screenings, and more. It is a must-visit if you are interested in the culture of St. John!
14. Relax in the World-Famous Baths of Virgin Gorda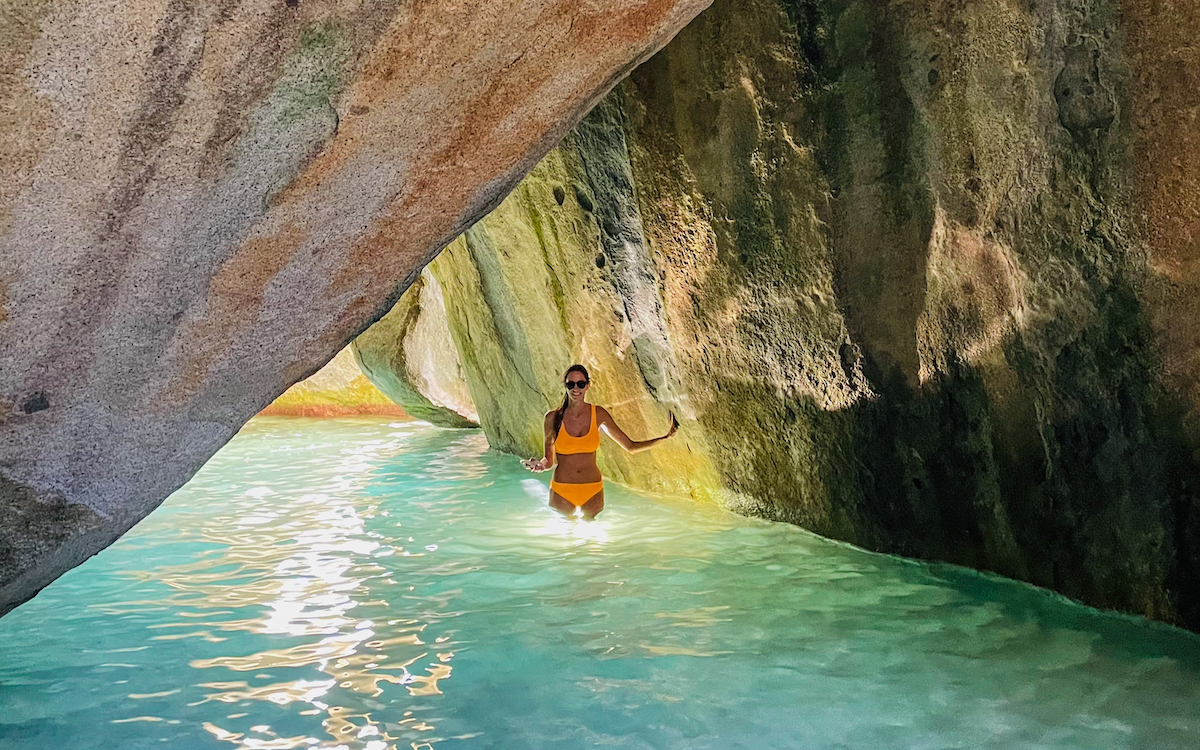 Credit: JetsetJansen.com
The Batholiths, or "Baths," are a network of interconnecting boulder formations that create unique, hidden pools of pristine water to relax in. These impressive structures were formed by molten rock seeping into existing volcanic rock layers formed over millions of years. The cheapest way to reach the Baths of Virgin Gorda from St. John is by ferry, but there are plenty of more luxurious excursions that offer meals and other delightful perks. It tops many lists of the best things to do in the Virgin Islands!
15. Go on a Night Kayaking Tour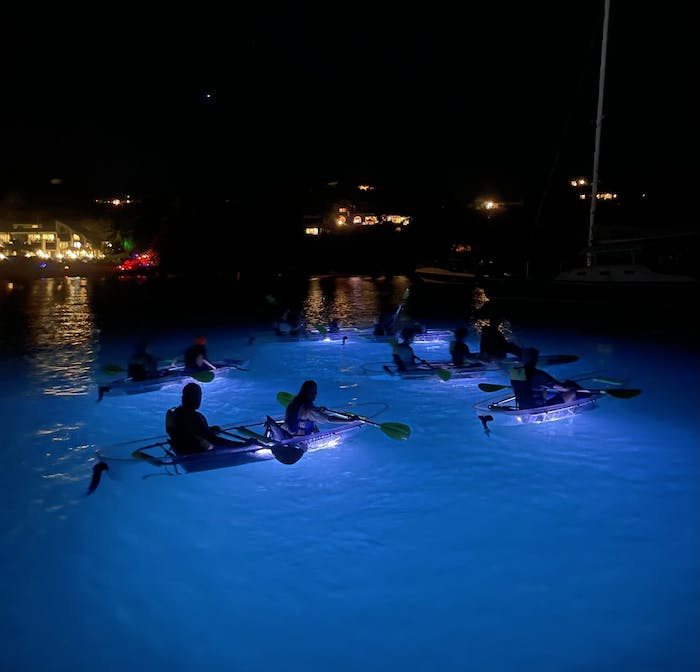 Credit: NightKayak.com
Night kayaking on St. John is a splendid, once-in-a-lifetime experience because the kayaks typically have clear bottoms, so you can admire the marvelous medley of flora and fauna below as you navigate through shallow waters and thrilling tunnels. You may even witness bioluminescence on St. John, a mystical and magical wonder of nature. What is bioluminescence? Bioluminescence is the production and radiation of light by living creatures. Imagine floating above a shimmering stream in your glass-bottom kayak — it's like a looking glass into another world!
16. Visit Cinnamon Bay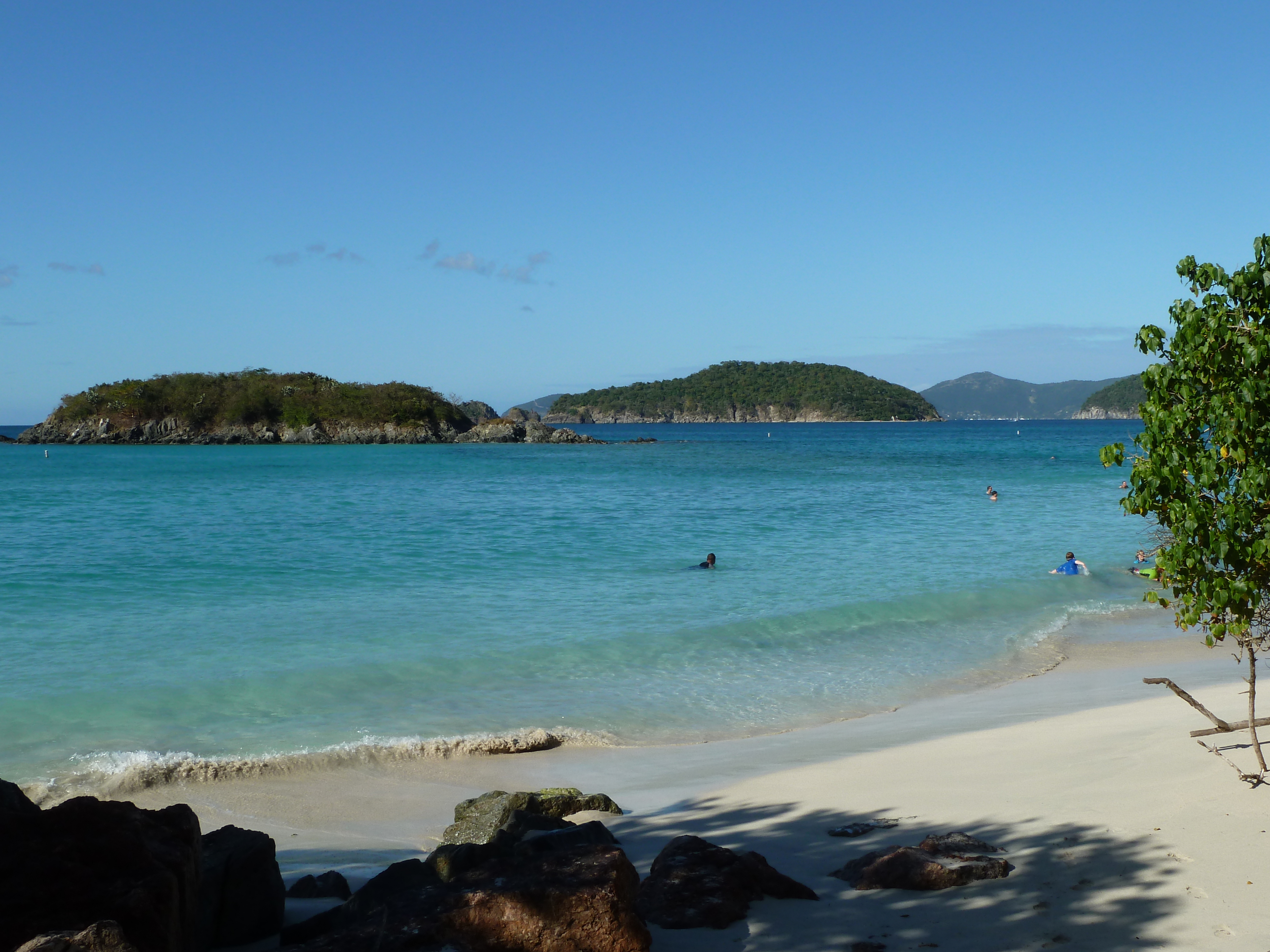 Credit: Gruepig (CC BY-SA 4.0)
What is Cinnamon Bay known for? Primarily, it's known for Cinnamon Bay Beach, the longest beach on St. John, offering more than half a mile of soft, white sands and majestic towering palms. There is plenty of snorkeling and gentle swimming to be had within these waters and a small cay just 100 yards from the shoreline. It has its own restaurant, grocery store, water sports rentals, and even camping cottages, too. And it's a common site to see donkeys roaming freely!
17. Visit Hansen Bay Beach
Hansen Bay Beach is another spectacular beach of St. John that flies under the radar, meaning you can escape the crowds there. It offers a serene, easygoing cay for snorkeling, a food truck, and clean bathrooms along the stretch of ivory sand. Here is a surefire sign that Hansen Bay Beach on St. John is worth the visit — it won TripAdvisor's Travelers' Choice Best of the Best award for 2023! Many reviews describe it as the best snorkeling beach on St. John.
Here is a glowing review from GLFoodie: "We drove all the way across the island twice to enjoy this amazing beach. Our 13-year-old girls played for hours on the floating water mattresses for rent, and the submerged rocks along the sides of the cove make for great snorkeling. We saw our only barracuda of the trip here. All of St. John's beaches are gorgeous, but Hansen's has a special, laid-back, uncrowded vibe. The owners are so friendly. Leave a donation in the tip box to support their visitor amenities at this lovely spot."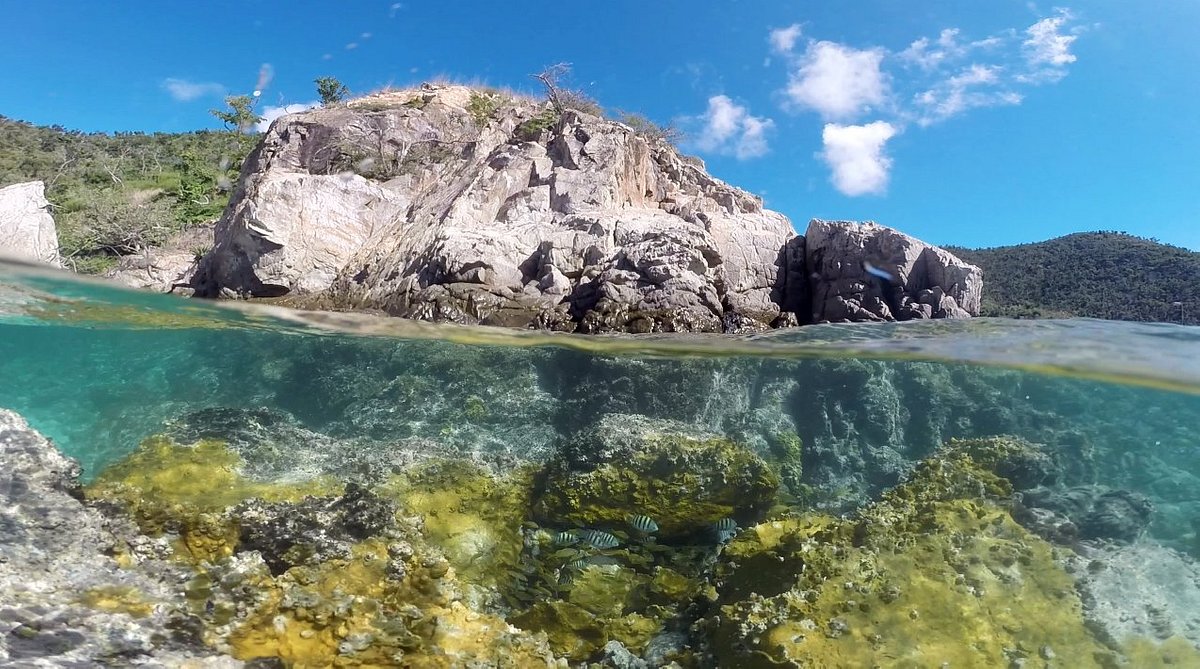 Credit: Neil Bacon
18. Drink a Proper Rum Painkiller
If you enjoy a hard drink, a Painkiller is a must-try on St. John. What is the history of the Painkiller cocktail, and why is it so popular on St. John? The iconic drink was created in the 1970s at the Soggy Dollar Bar in the British Virgin Islands. The refreshing, flavorful concoction spread across the Virgin Islands and became a signature drink. What is in a Painkiller cocktail? A Painkiller cocktail is typically made with Pusser's rum, which is a re-creation of the British Royal Navy rum issued to sailors until 1970. Along with the dark rum, the drink contains pineapple juice, orange juice, and cream of coconut. Now that sounds like a tasty gulp of paradise!
19. Admire Scenic Overlooks Along North Shore Road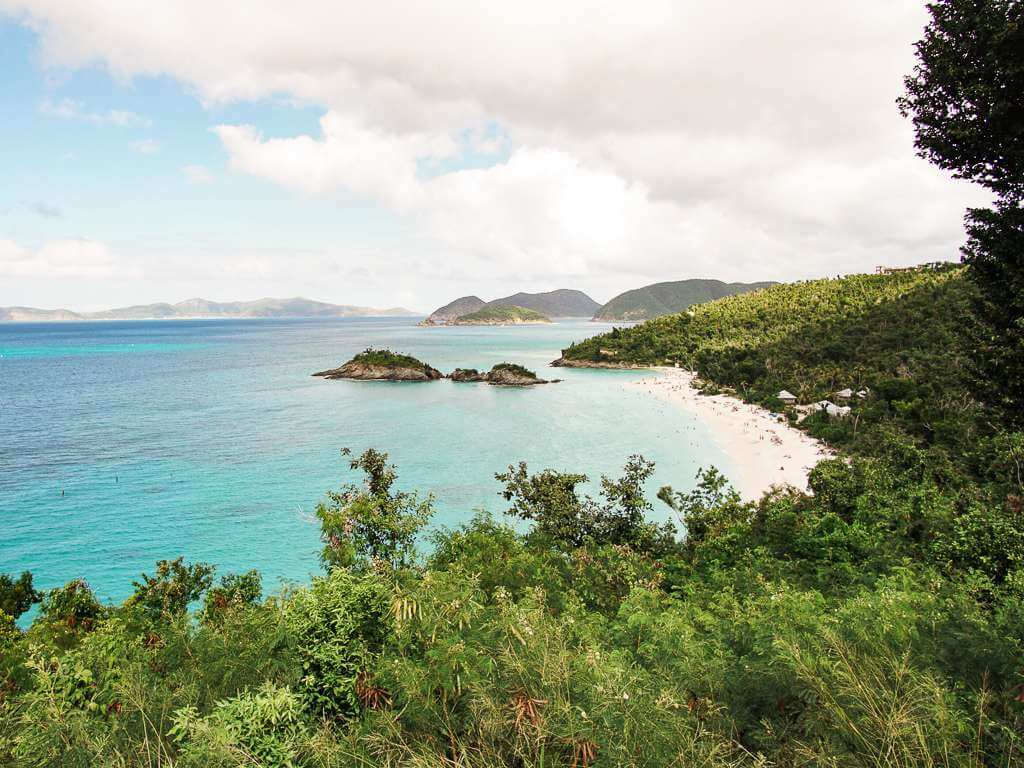 Credit: FueledByWanderlust.com
North Shore Road on St. John is renowned for the bright, dreamy white sand beaches that run along it. One of the best things to do on St. John is to drive along this winding road to take in the breathtaking scenery. The best overlooks on North Shore Road are of Maho Bay, Caneel Bay, and Trunk Bay. Check out this immersive St. John North Shore Road drive video:
20. Visit Hawksnest Beach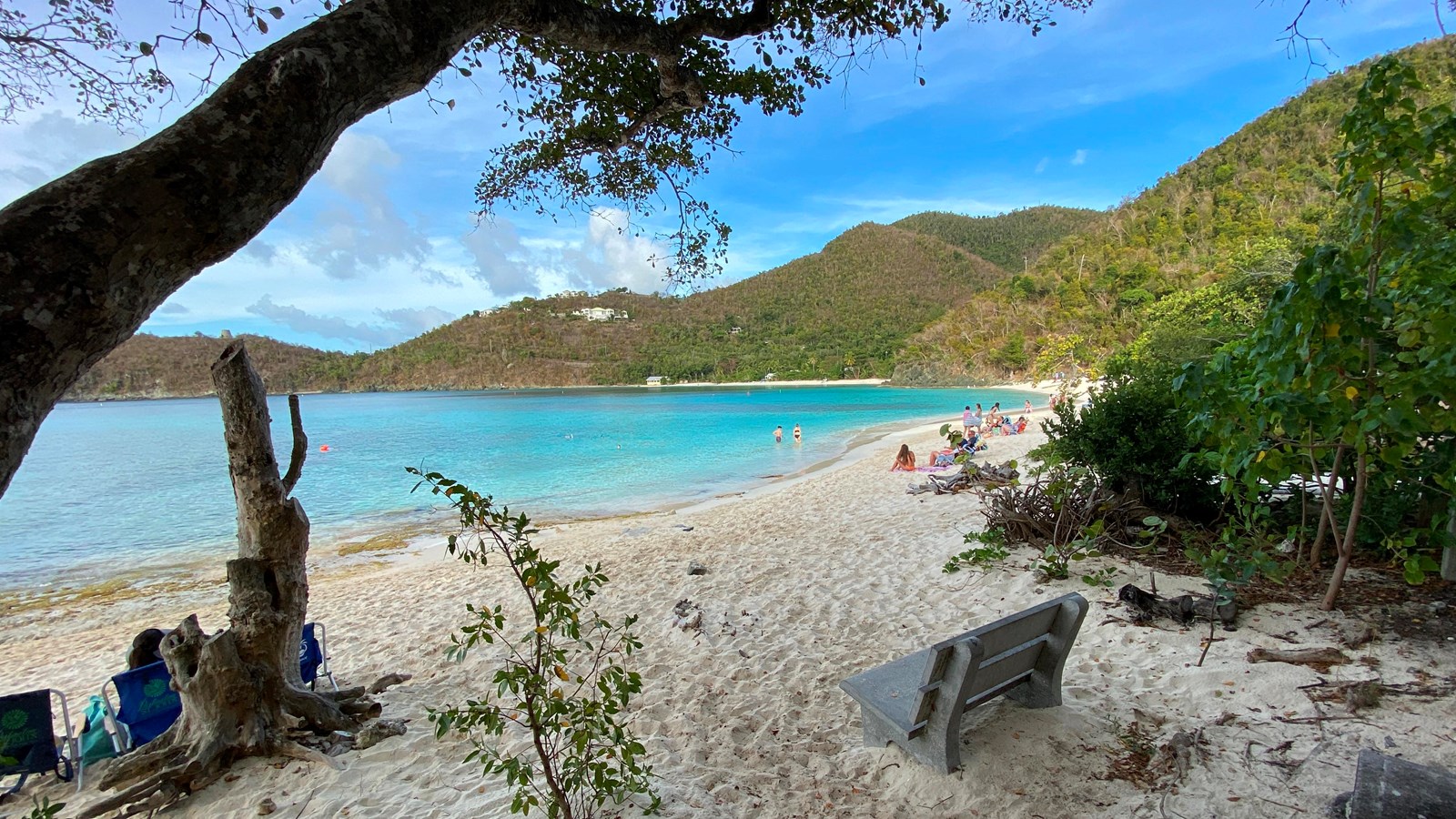 Credit: National Park Service
If you're looking for the best things to do on St. John with kids, here's a good pick. The National Park Service describes Hawksnest Beach as a great family beach that offers great snorkeling with three small reefs of elkhorn corals and plenty of small fish. Tall trees provide ample shade for beach-goers. If you want to catch some waves, check out this review from SharrisonKansas:
"The beach was beautiful! I waded out into the water and could feel the undertow. A big wave hit me and knocked me down, and then a second wave came and literally shot me out of the water and onto the beach! I have never laughed so hard in my life. I'm sure those sitting on the beach got a good laugh as well! We really enjoyed our time on this beach!"
21. Visit Francis Bay
Francis Bay is one of the more quiet beaches on St. John and an ideal place to view turtles, enjoy long swims, and snorkel along the rocky shoreline toward the north end of the beach. If you are interested in birdwatching on St. John, there is a boardwalk that provides access to great birding opportunities around the salt pond behind the beach. You can also take the trail up to the Great House ruins as well as the Francis Sugar Factory.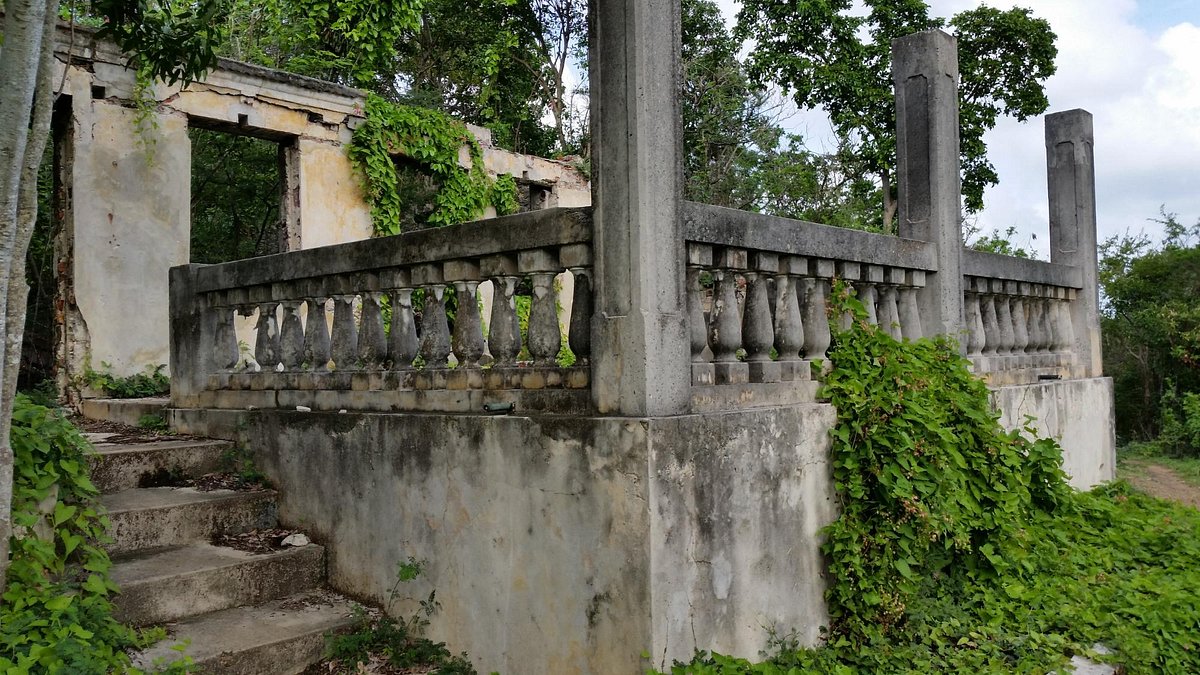 Credit: Michael S
22. Visit Salt Pond Bay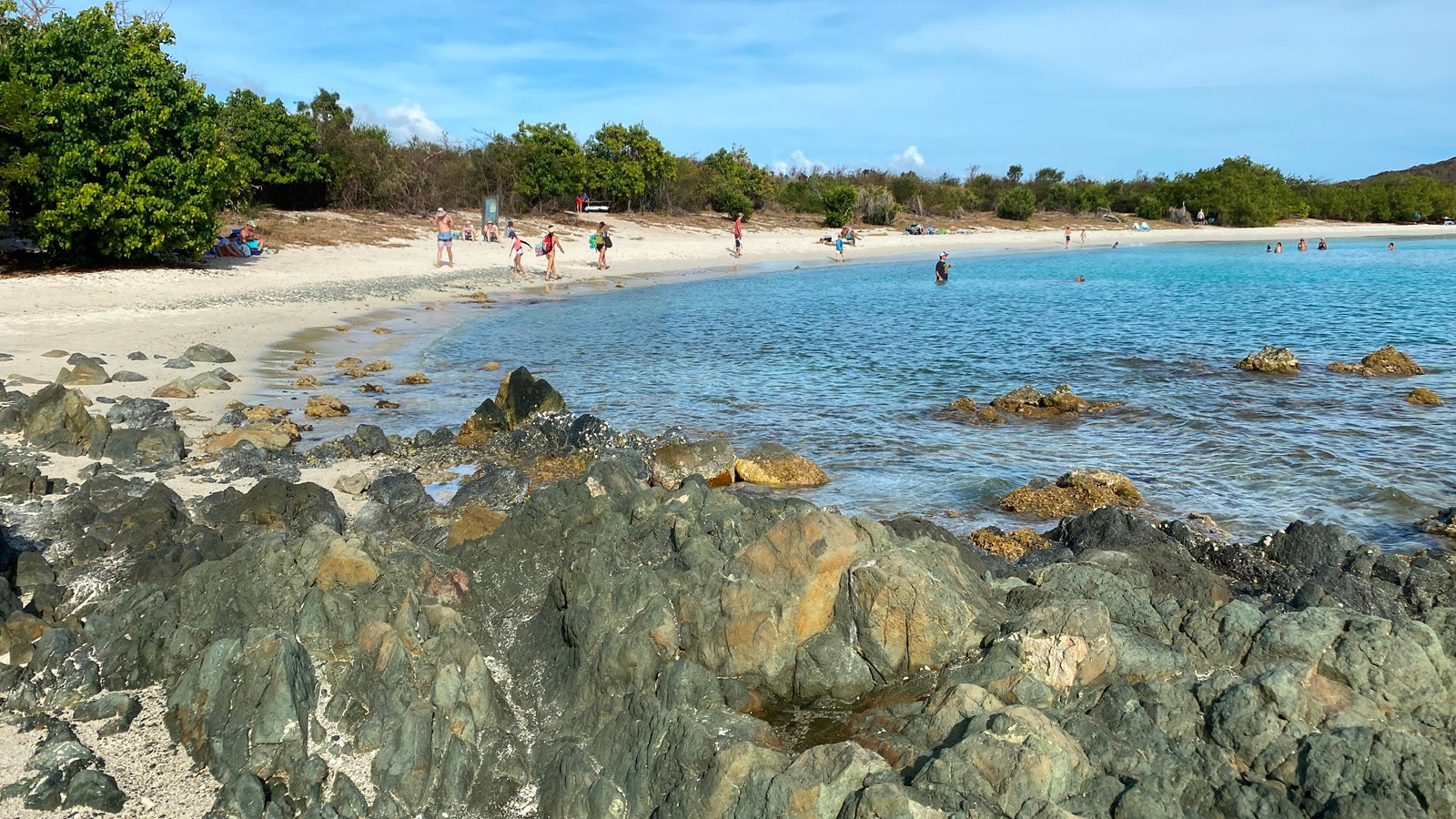 Credit: National Park Service
This long, curved beach provides a gentle slope into crystal-clear water, making it a wonderful place to snorkel at your own pace with the whole family. It is accessed by a 0.25-mile trail of uneven and rocky terrain, so while it is a bit of a challenge to reach, that means it is less crowded than other St. John beaches.
23. Visit Neptune's Lookout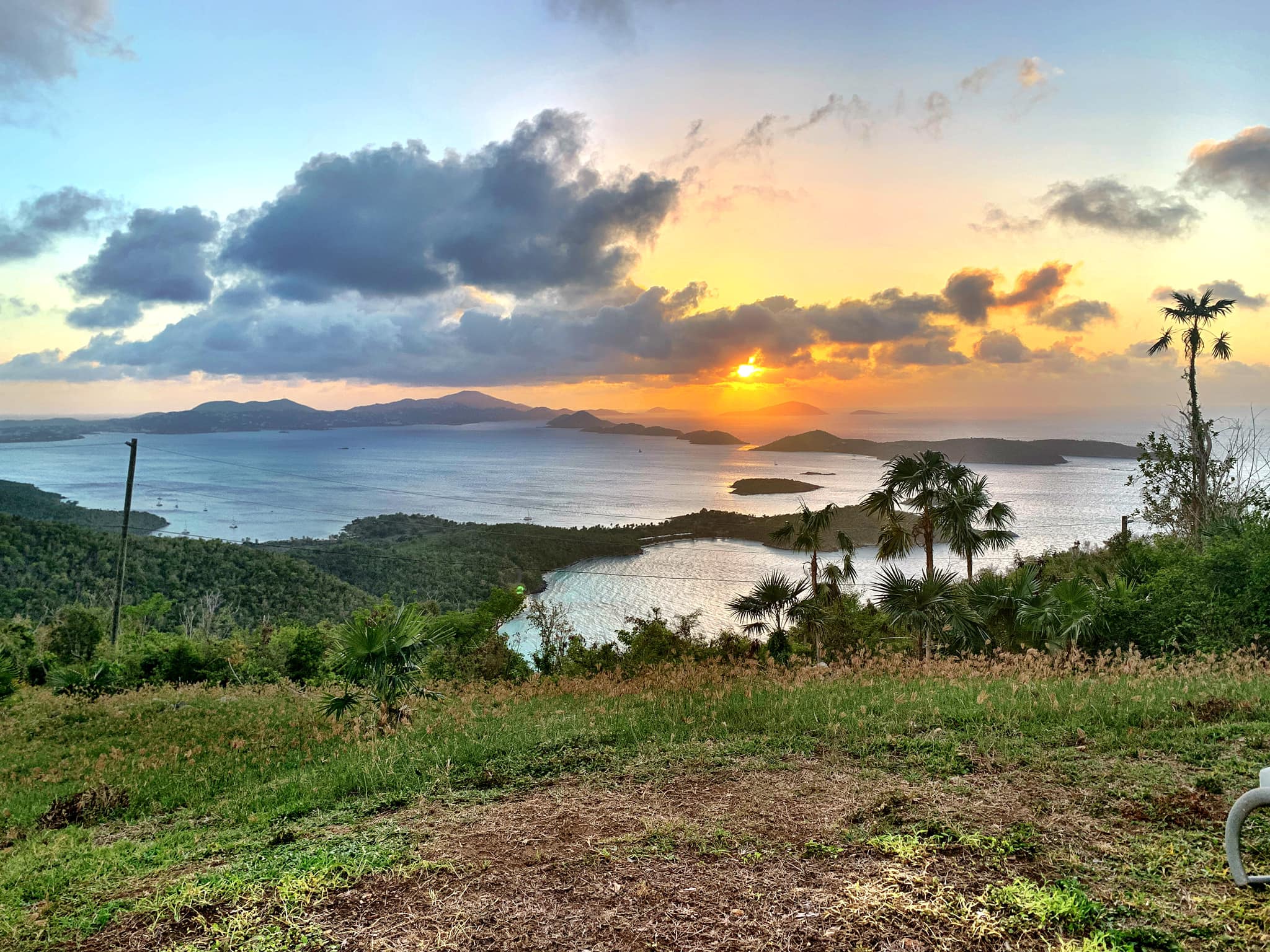 Credit: Camp St. John
Neptune's Lookout on St. John was once a sugar plantation dating back to the 1700s. Now, it is a popular spot on St. John for weddings, concerts, and sunset-watching. You can enjoy a cold beverage at the Windmill Bar while soaking up the incredible sights all around you. If you're interested in camping on St. John, that's also an option at Neptune's Lookout. It's described as a "fully functioning, modern Virgin Islands campground paradise."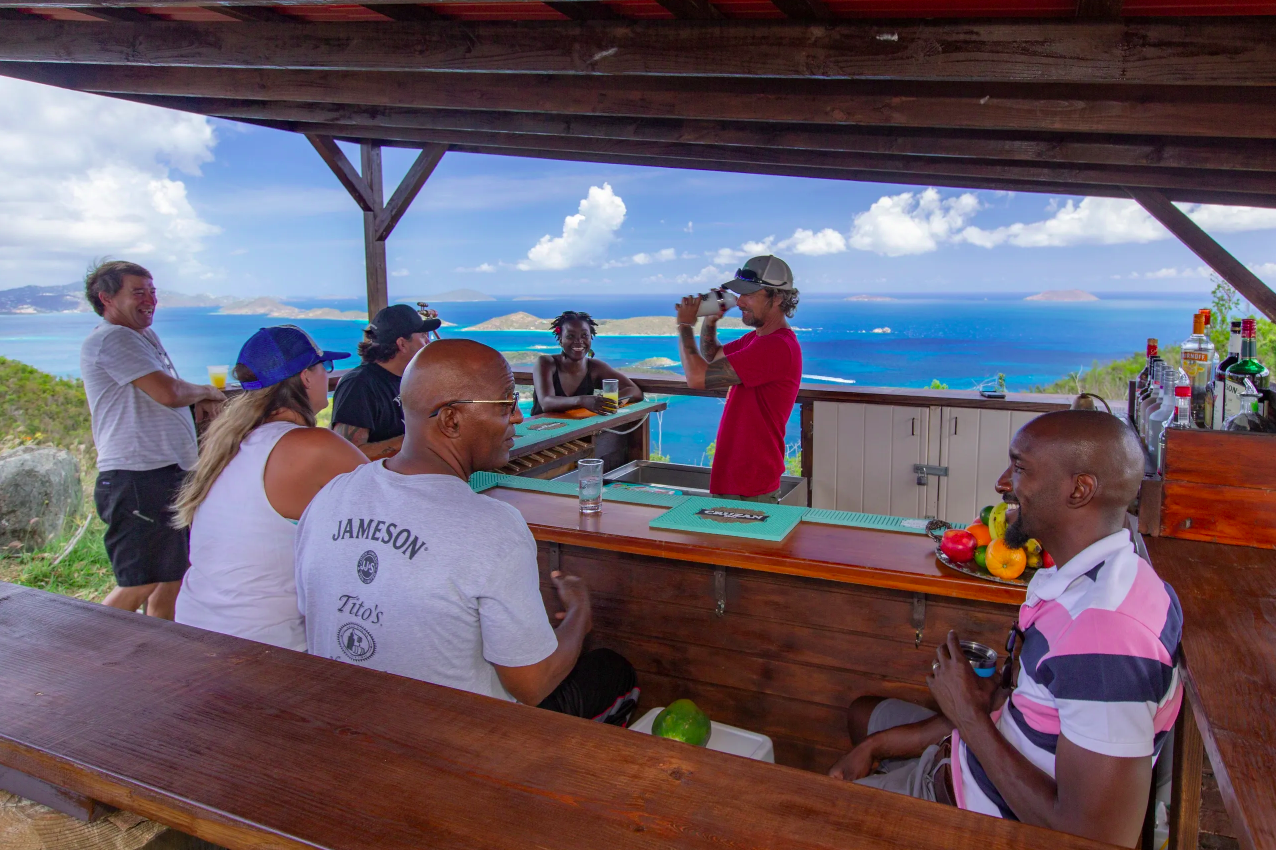 Credit: Neptune's Lookout
24. Enjoy Lunch at Maho Crossroads
Maho Crossroads is a minimum-footprint, self-powered, energy-efficient pop-up village located across the street from Maho Beach on St. John. You will find a tiki bar serving high-quality Painkillers, a WV bus converted into a food truck, some shops, water sports rentals, and plenty of lawn games. It has a chill, beach club feel. They are also always adding new sustainable art, like this trash-to-treasure giant sea turtle sculpture!
25. Visit the Peace Hill Windmill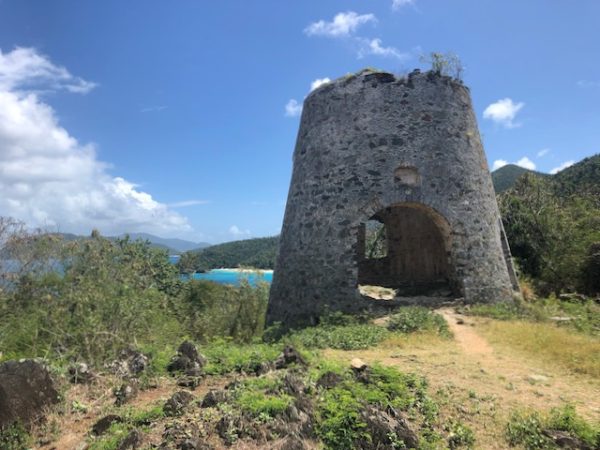 Credit: News of St. John
The Peace Hill Windmill is located right off of North Shore Road, making it easy to combine with a St. John beach day. After a 100-meter uphill hike, you will discover the beautiful stone ruins of a windmill being reclaimed by nature. You may also meet some donkeys, as they tend to frequent this area — just be mindful of donkey poop! Beyond the windmill, there are plenty of awe-inspiring views that will make you want to stay a while. The plantation that once thrived on Peace Hill was called Denis Bay. Established in 1718, it is one of only five St. John plantations that harnessed wind power in the production of sugar. Despite being more than 300 years old, the structure has survived several catastrophic hurricanes. There are community meditation gatherings every Sunday at sunset, which are always free and open to the public. (It is one of the best places to see the sunset on St. John)!
26. Dine at Skinny Legs Bar and Grill
Skinny Legs is a funky, laid-back restaurant in Coral Bay that many consider to be a St. John must-visit. It is renowned for having fresh, flavorful burgers, top-notch Painkiller cocktails, and legendary key lime pie. It is also a great place to catch live music for the full free-spirited experience.
Here's a review from Juliann1024 to get your mouth watering: "I don't know how on earth this place could get anything but a 5-star rating if you've had their burgers. There is literally nothing that could be done to improve on it. Bun was perfect, and I stole everyone's pickles (so I guess that made it a little better), but next time, I will just ask for extra pickles. Perfectly cooked, lots of cheese. If you like burgers, this is the one for you."
27. Become a Mermaid!
If you are looking for family things to do on St. John and want some quirky, priceless photos, try Mermaid Swim VI. Mermaid Swim on St. John is a professional photo shoot and mermaid swimming lesson experience that the whole family will get a "splash" out of! Costumes and embellishments are provided for the photos to help you channel your inner mermaid.
The experience can also be fantastic for St. John bachelorette parties.
28. Hang Out After Hours at Beach Bar
Beach Bar is a fantastic place to enjoy some nightlife on St. John. They bring the night to life with famous Painkillers, scrumptious food, and a dynamic rotation of live music that you can check in advance on their website. If you are hunting for the best nightlife and bars on St. John, this is among the places to be! They even have fun beach games and competitions.
29. Indulge at St. John's Only Coffee Bar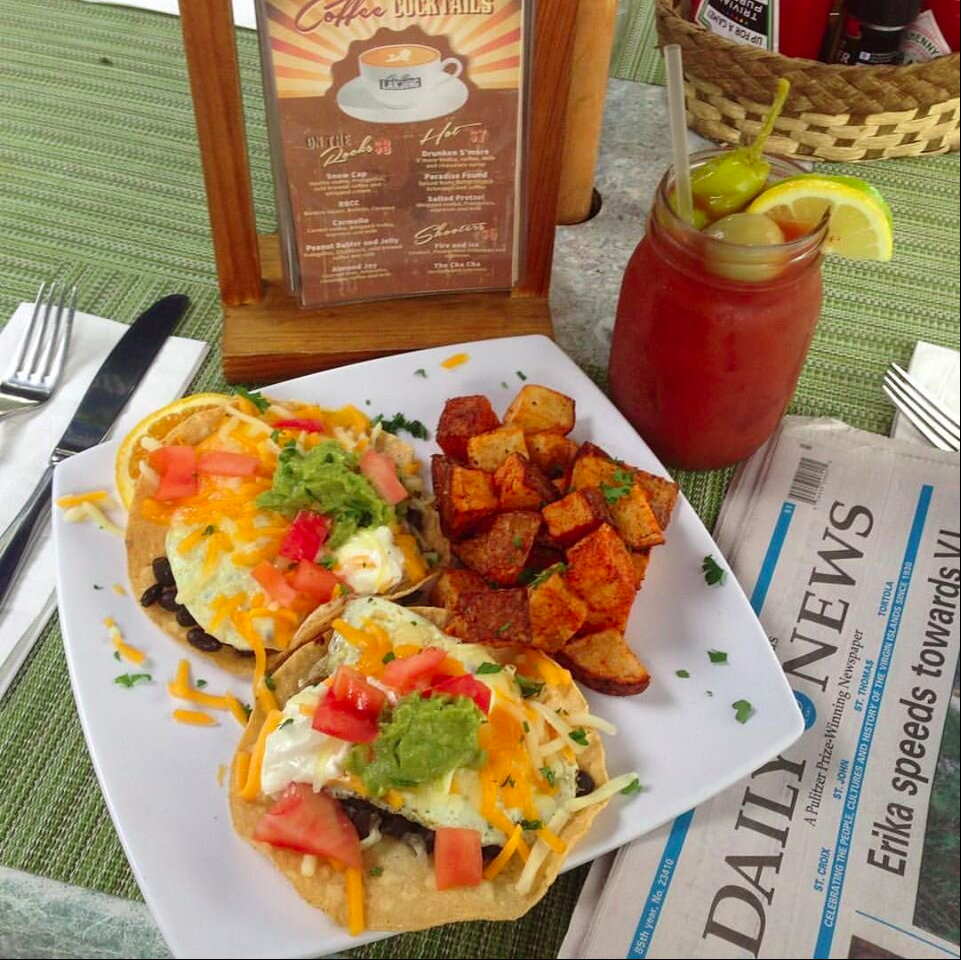 Credit: Cruz Bay Landing
After a night out or before a day spent relishing the best beaches on St. John, you're gonna need some coffee and a hearty St. John breakfast. Cruz Bay Landing is St. John's only coffee bar, serving local brews and decadent cocktail lattes as well as breakfast. In fact, many claim it's the best breakfast on St. John! If you're craving ice cream on St. John, you can also find it here. Cruz Bay Landing has a creamery serving ice cream, smoothies, and other delicious desserts. It is also one of the most beloved St. John bars. In fact, their motto is: "First Stop, Last Stop." They also have a 22-foot shuffleboard table if you want to get your game on.
30. Party at Drink
Despite the humble size of the island, there are still plenty of opportunities for St. John bar-hopping. One such place is Drink, which proudly proclaims on their website, "Our focus here at Drink is on fresh and refreshing cocktails. At Drink, you are just here to DRINK! Original or traditional, our drinks are fresh-squeezed whenever possible. Don't see what you want? Our bartenders can make you something special! Come enjoy our beautiful atmosphere, fun staff, and delicious drinks!" They are home to heavenly St. John bushwackers and other refreshing cocktails. In fact, many TripAdvisor reviews claim that Drink has the best bushwackers on St. John! The beachfront bar is just steps away from the ocean, so you can sip on margaritas while admiring a mellow Caribbean sunset. There is also plenty of live music to dance the night away! It's also a popular St. John wedding reception spot.
31. Cool Down With Ice Cream at Irie Pops
Irie Pops is one of the few ice cream places on St. John. They serve handcrafted ice pops, soft-serve ice cream, boozy slushies, and funky, fresh vibes! In Jamaican English, "irie" means nice, good, or pleasing. This captures the essence of both the frozen treats and the bright, punchy décor. They are also known for their local, organic, vegan, and gluten-free options. You might even spot some adorable baby donkeys!
32. Personalize Your Very Own Hook Bracelet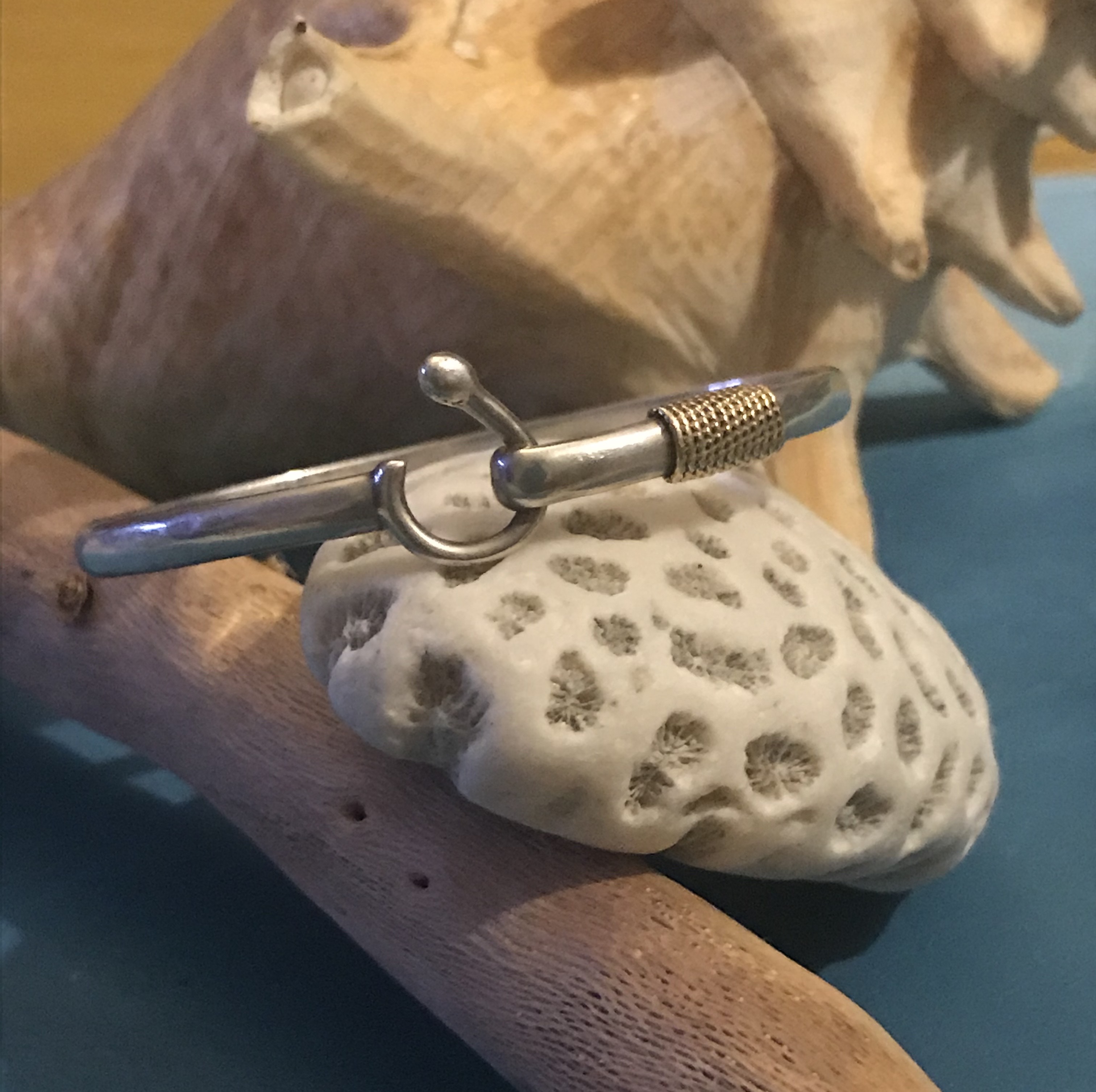 Credit: News of St. John
What does the St. John hook bracelet mean? Natives of the Caribbean have worn hook bracelets for centuries, and nowadays, the hook bracelet has evolved into a symbol of unity and love worn by locals, visitors, and celebrities alike. Local tradition dictates that attached lovers wear the top of the hook facing upward, towards their heart, to show that they are taken; wearing it downward indicates being single. There are plenty of places to find and customize Caribbean hook bracelets with gemstones, engravings, or other adornments to make one truly your own. Be sure to include hook bracelets in your shopping on St. John!
33. Grab the Best Lunch on St. John at North Shore Deli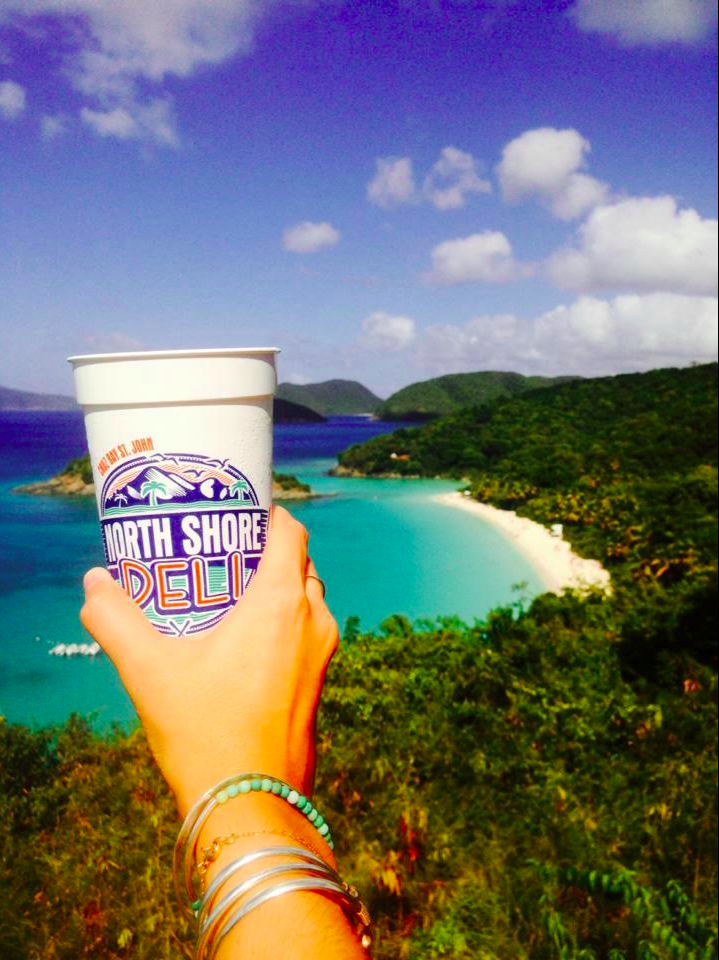 Credit: North Shore Deli
"Best food on the island!" — Devon I
"Best sandwiches in the Caribbean" — beachbooks
"Great deli for a picky NY'er" — bocie930
"Great sandwiches; perfect to pack for a beach trip" — jon0592
"Best sandwiches in Saint John!!" — Agsmith08
These are just a few of the stellar TripAdvisor reviews for North Shore Deli, arguably the best lunch spot on St. John. This grab-and-go deli makes it easy to snag delicious, filling food to bring on your St. John adventures. It is also the second-best restaurant on St. John after Lime Out. It is located in Mongoose Junction, so it could also serve as a yummy refueling station for your St. John shopping trip.
Romantic Things to Do on St. John
In honor of St. John's nickname, "Love City," let's explore the most romantic things to do on St. John. St. John honeymoons are renowned for being blissful, luxurious, and one-of-a-kind.
34. Relax on Honeymoon Beach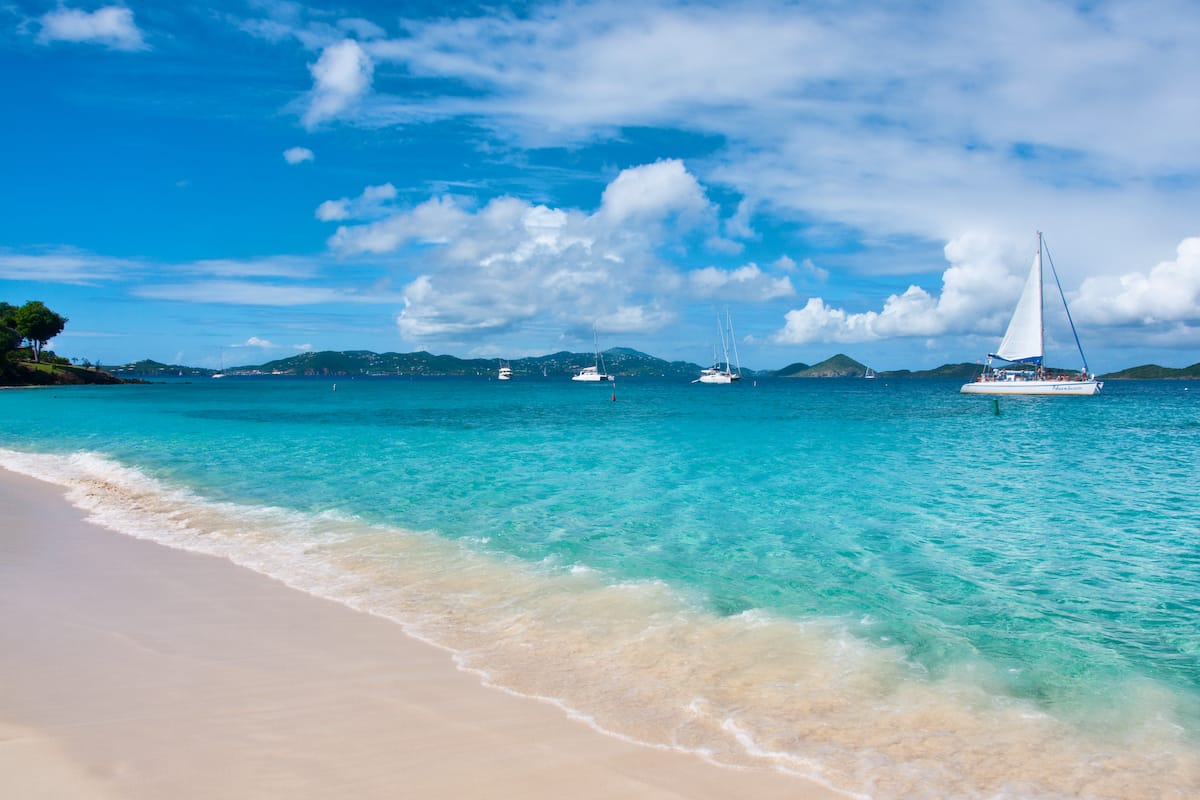 Credit: Meganstarr.com
Travel + Leisure has called St. John's Honeymoon Beach one of the most romantic beaches in the Caribbean and one of the most beautiful beaches in the Caribbean! This intimate, remote beach cannot be seen from any roads, making it the perfect place for lovers to relish each other's company. It has soft, white sands, easy and shallow water access, and gentle shade cast by coconut palms. It can only be reached by boat or a short trek on foot, enhancing its hidden allure. If you want to go beyond just soaking up the stunning sights, snorkeling equipment, paddleboards, and kayaks can be rented at the Beach Hut, which is run by Virgin Islands Ecotours.
Just take a look at this water. Wow!
35. Enjoy a Tasting Menu Experience at Lime Inn Bar and Restaurant
The Lime Inn is a sublime place for a St. John date night with its breezy, private garden setting and elegant meals that are beyond Instagram-worthy. Guests can choose between a four- or six-course tasting menu that is designed to be indulged upon together.
Here is what ChuckD898 has to say about dining at the Lime Inn: "In our four nights on St. John, we ate at the four highest-rated restaurants. All the meals were very good, but the menu at the Lime Inn was the most creative of the four. Flavors, textures, and presentation were all delightful. Portions for the four-course tasting menu were perfect — we were pleasantly full, but little food was wasted. The wine list is basic but is complementary to the range of food items. Service was excellent."
36. Dine at Extra Virgin Bistro
If you want to enjoy spectacular seafood and pasta with your sweetheart in a charming, elegant setting, Extra Virgin Bistro on St. John is a safe bet. Many describe it as the best restaurant on St. John, with its vibrant house-crafted cocktails and artfully curated prix-fixe tasting menu. Plus, the ingredients are fresh and local! Here is a sampling of its glowing reviews on TripAdvisor:
"Wow!!! This restaurant is incredible. My husband and I are from New Orleans, and we are pretty spoiled with food. We were both blown away with how awesome Extra Virgin was. The staff was very attentive. The bartenders were great, and the food was to die for. If you are in St. John, you can't miss this romantic spot!" — Brittany B
"Our new favorite. Lovely white-tablecloth dining. Excellent service. Fun signature cocktails. Excellent food. It's pricey but worth it. If you're on a romantic vacation, splurge one night and enjoy." — pennv
"We came here on our first night in St. John's, tired from a long trip but wanting to go, as the restaurant is closed on Sunday. It is just like the photos — white tablecloths, candles, very handsome and romantic. We were instantly rejuvenated by some specialty cocktails. Our party of ten received great service — two waiters opened our wines. The food was superb, from the short ribs to the melt-in-your-mouth fish. It was an epic meal." — Robert L
Outdoor Things to Do on St. John
37. Explore the Island by Jeep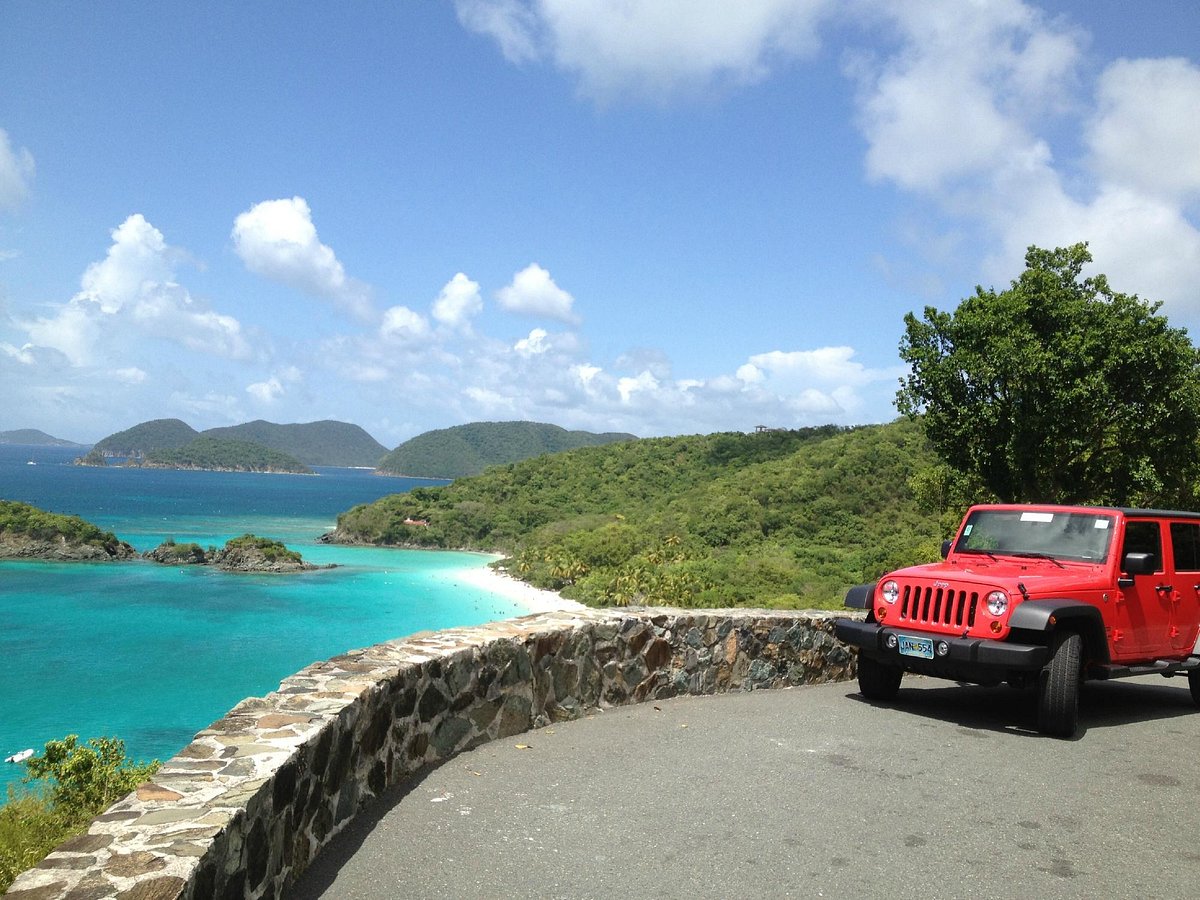 Credit: Sunshine's Jeep Rental on TripAdvisor
Due to winding, rugged roads of the island, Jeeps are the most popular vehicles on St. John. The island is only 9 miles long, so renting a Jeep on St. John is a fun and thrilling way to cover lots of ground and experience the island to the fullest. There are various breathtaking lookouts to stop and marvel at. There are also plenty of St. John Jeep rentals to choose from.
38. Hike the Reef Bay Trail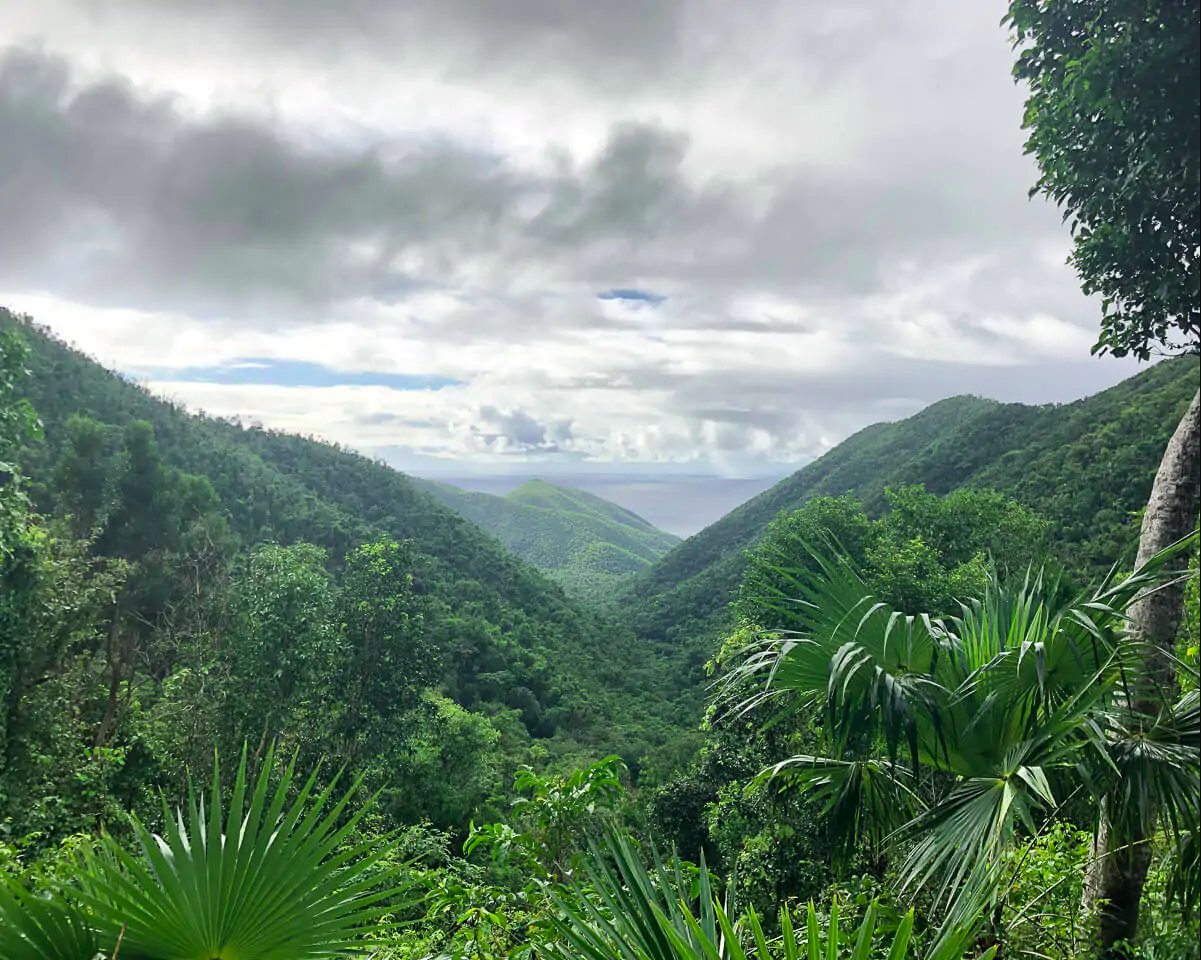 Credit: SnorkelandHike.com
If you only have time for one of the many glorious St. John hiking trails, this one is worth it. You will discover Danish sugar plantation ruins, stone walls from cattle-grazing, waterfalls during rainy season, sweeping vistas, and most fascinating of all, petroglyphs! St. John's petroglyphs come from the pre-Colombian Taino, indigenous people who inhabited the Caribbean. We can thank them for inventing words such as "canoe," "hammock," "barbecue," "tobacco," and "hurricane."


Credit: National Park Service
How difficult is the Reef Bay trail? The National Park Service describes this 4.4-mile out-and-back trail as strenuous, so be sure to wear proper footwear and bring plenty of water. It also ranks #1 on AllTrails for the best hikes in Virgin Islands National Park!
39. Hike L'Esperance Trail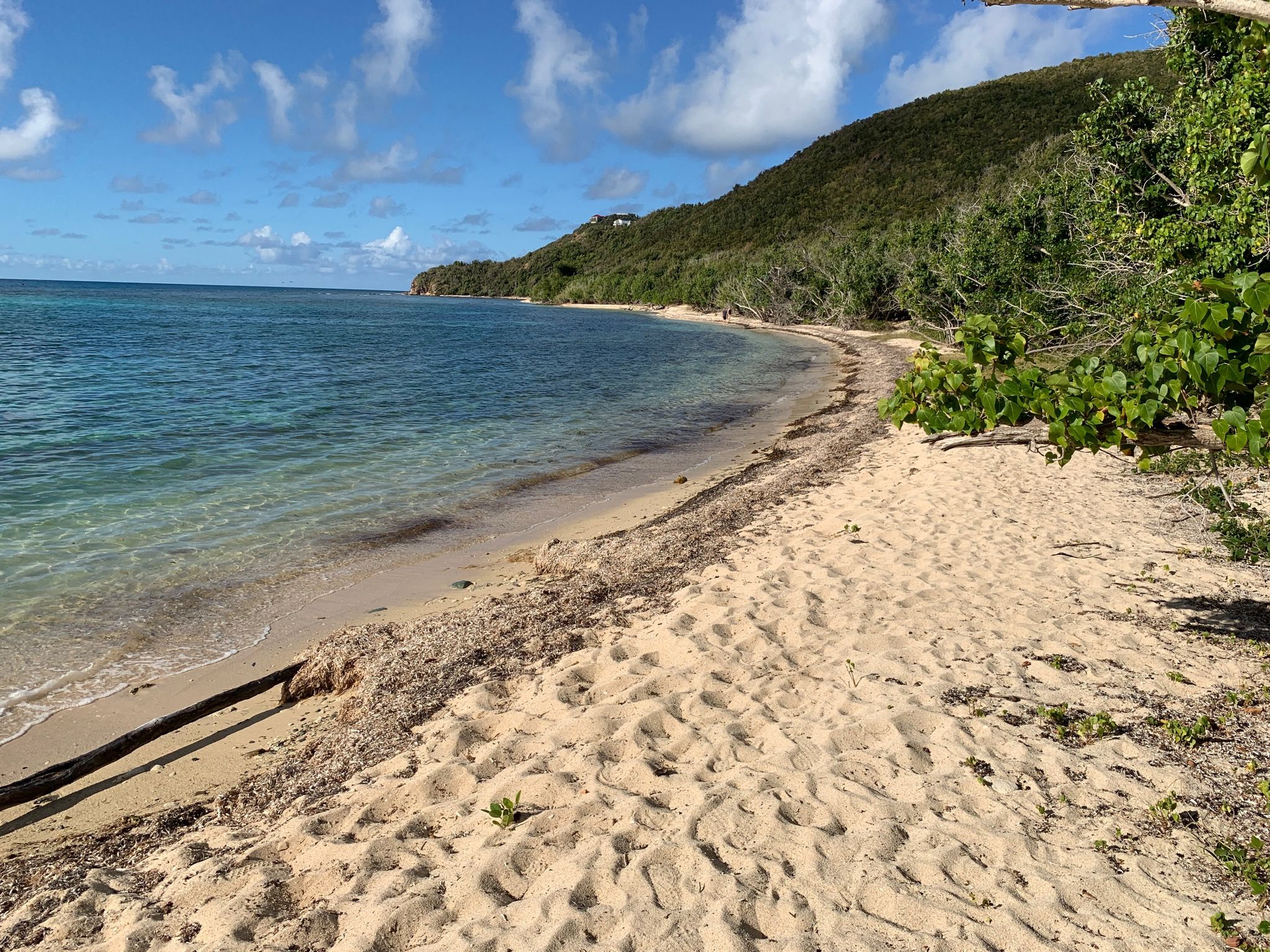 Credit: Will Foster on AllTrails
L'Esperance Trail ventures along a historic Danish road through ruins of some of the oldest plantations established on the island, making a hike here one of the best historic things to do on St. John. You can view the island's only baobab, a sacred tree species that was brought and planted by enslaved Africans. For more adventurous and eager hikers, you can hike down L'Esperance and back up the Reef Bay trail. You can also take a ranger-led hike; they will teach you about the ingenious adaptations that were born from survival from both early human settlers and animal ones. At 5.8 miles for the round-trip and a 1,617-foot elevation gain, this is one of the toughest hikes on St. John.
40. Hike to Ram Head Point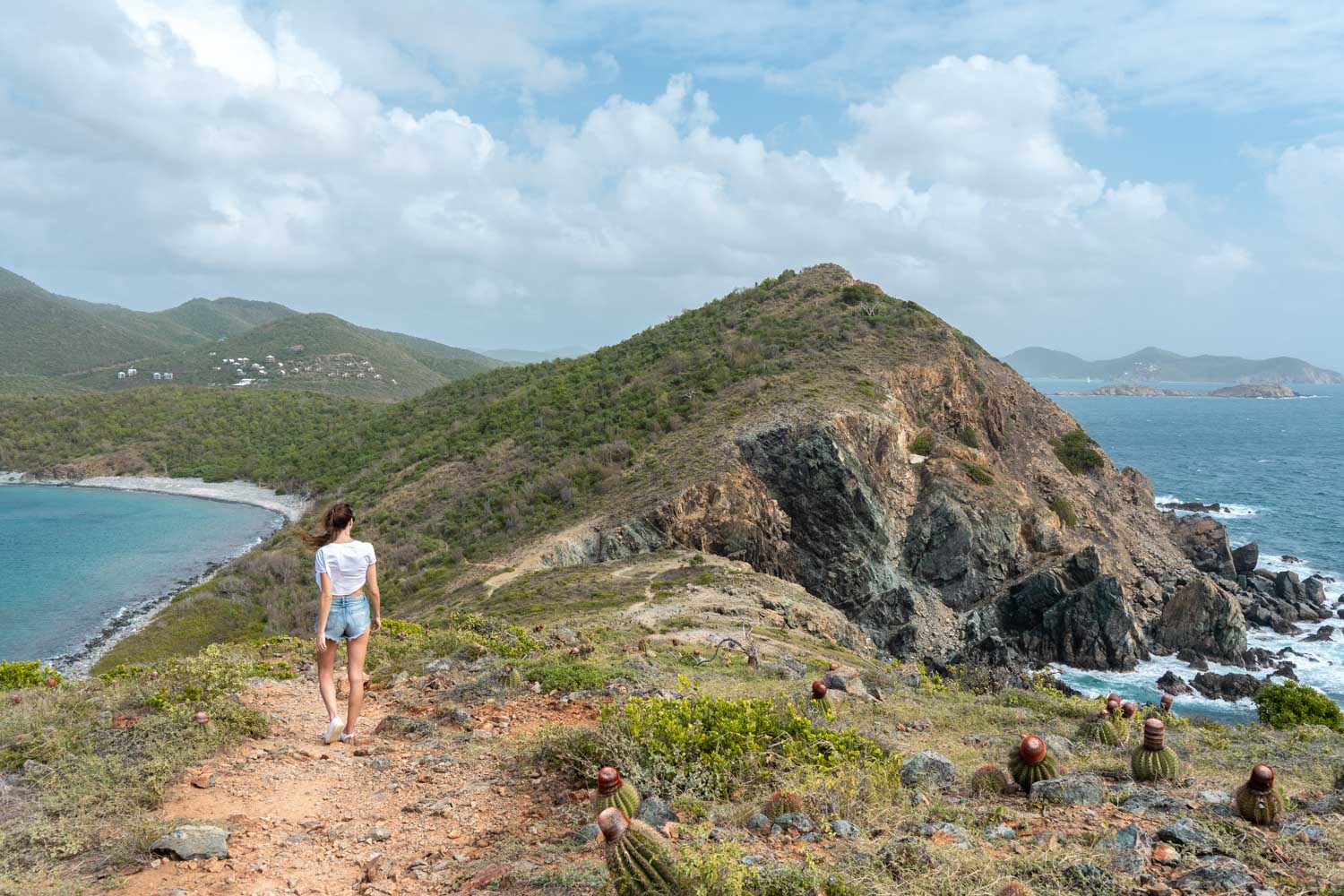 Credit: JetsetJansen.com
Located at the very southern tip of St. John, Ram Head Point offers breathtaking panoramic views of the island. Along the way, you will discover Salt Pond Beach, a serene, secluded beach hidden in a cove that is ideal for snorkeling. There are also a ton of quirky cacti called melocactus or Turk's Cap Cactus.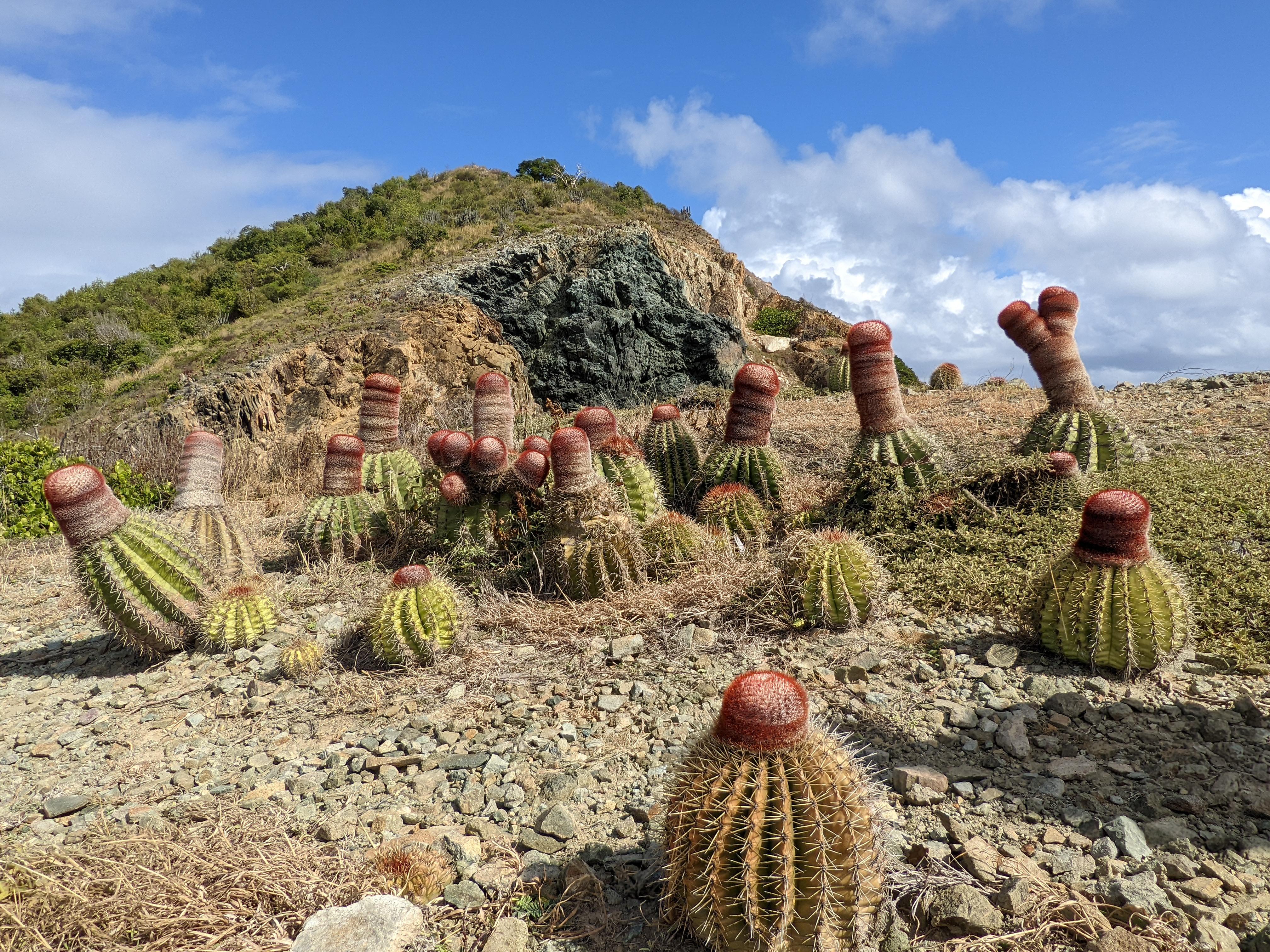 Credit: Reddit user PuunBaby
41. Hike the Johnny Horn Trail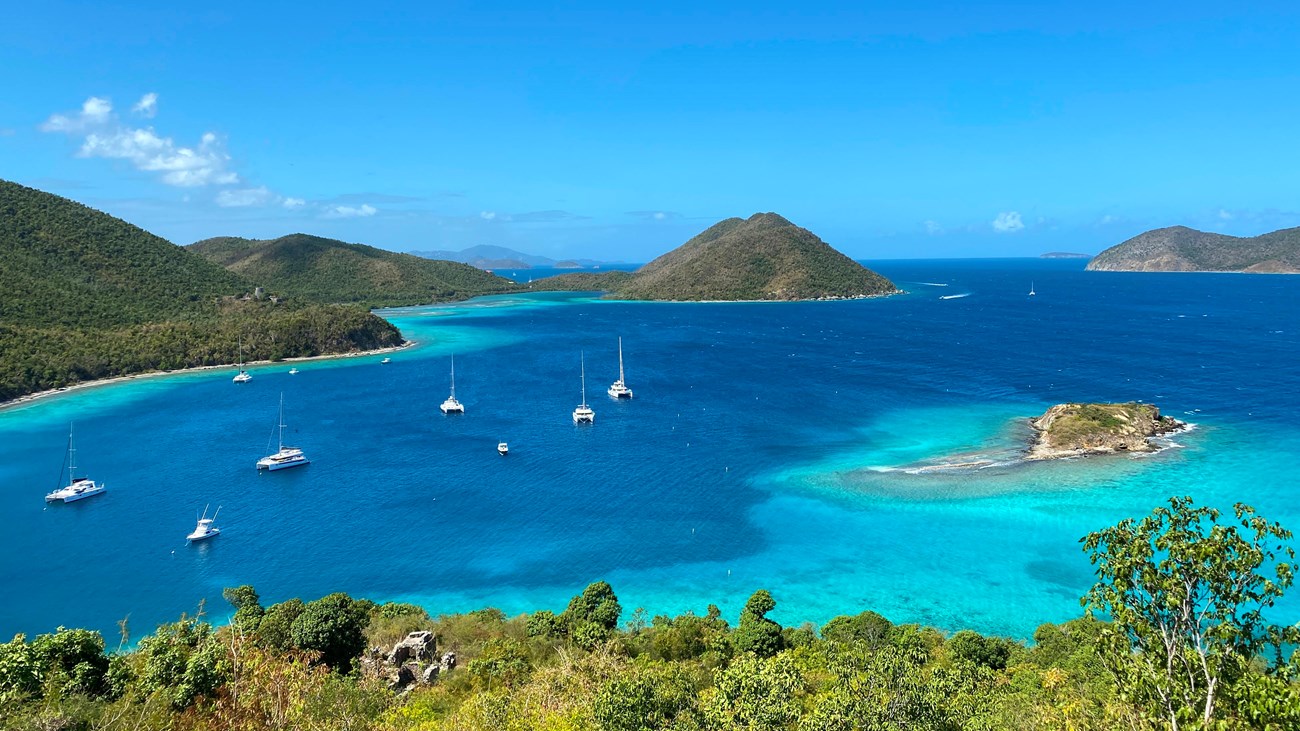 Credit: National Park Service
This 1.8-mile strenuous trail starts from the east end of the Waterlemon Bay beach and ascends past numerous historic sites. At the top of the first hill, your efforts are rewarded by a side trail that leads to a hilltop site with stunning panoramic views.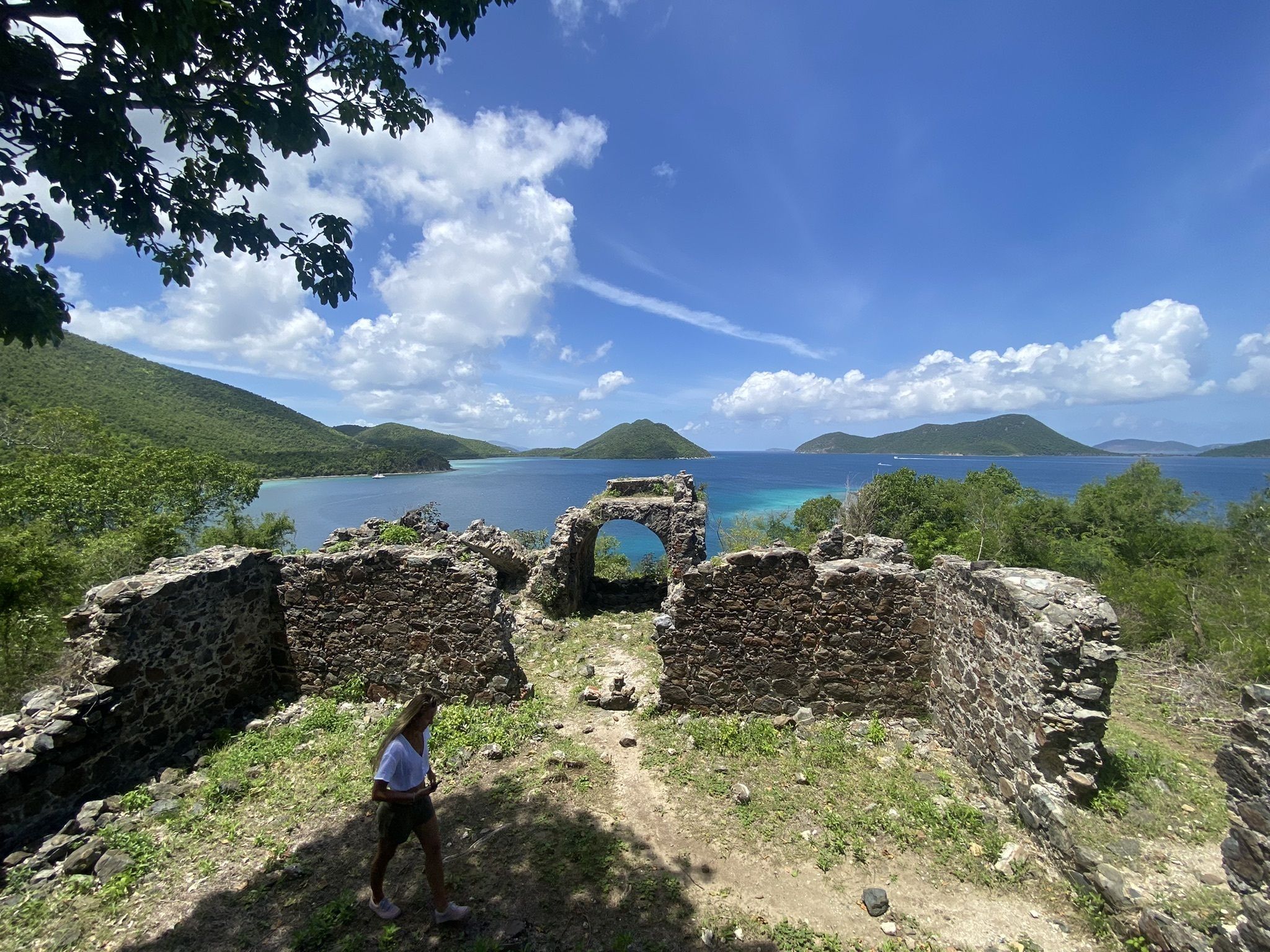 Credit: Cody Lat on AllTrails
42. Hike the Yawzi Point Trail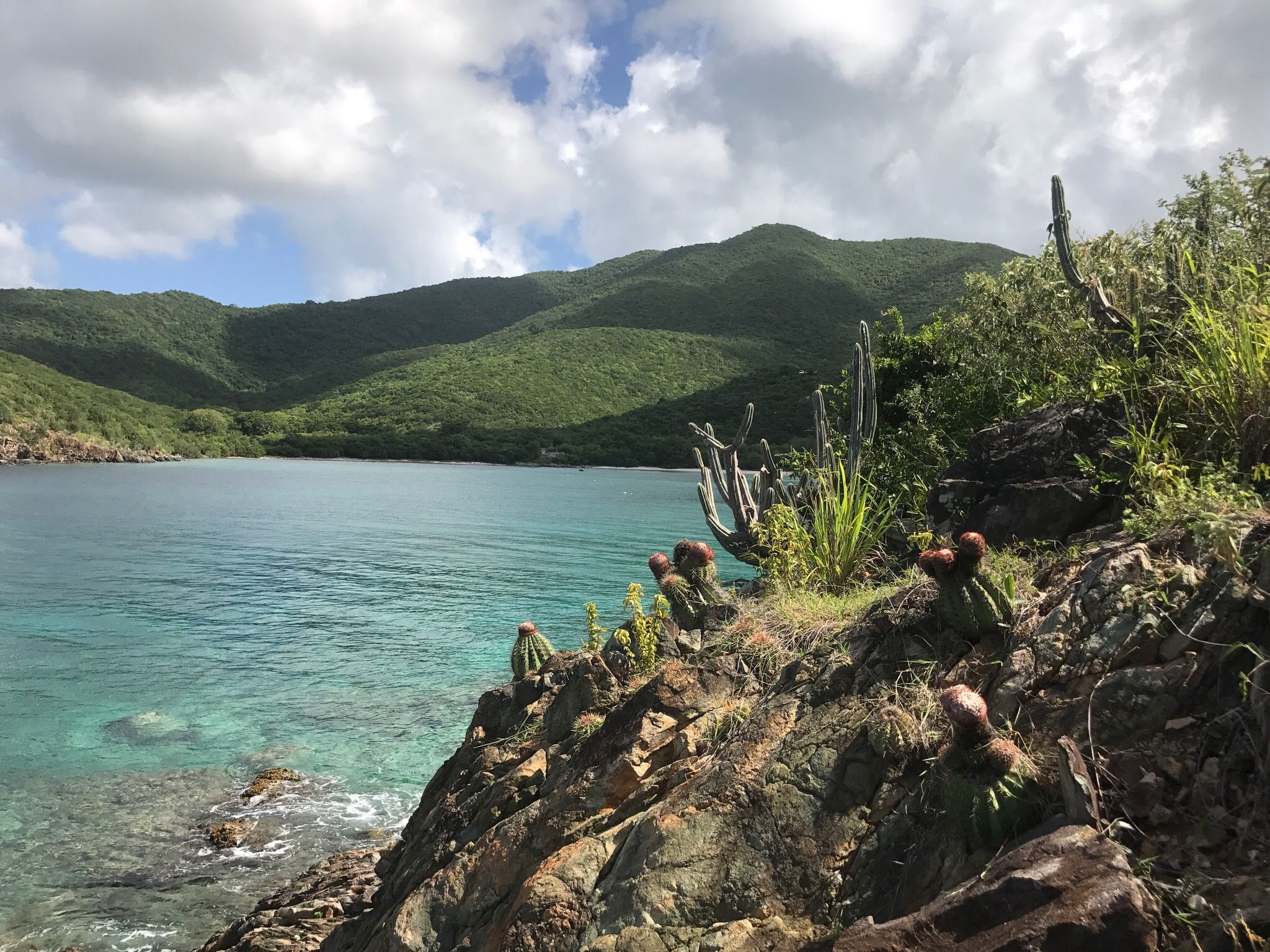 Credit: Ryan Seelke on AllTrails
Situated between Great Lameshur Bay and Little Lameshur Bay, this 0.3-mile trail is ideal for those looking for an easy hike that delves into the history of St. John with the benefit of secluded spots for snorkeling. St. John news site On Island Times describes it as one of the top spots to snorkel on St. John, although it's not for beginners: "Yawzi Point can be a fairly demanding spot to snorkel. Waves, current, and no easy way to exit demand respect. Use common sense, don't exceed your abilities, and always snorkel with a buddy."
43. Hike the Caneel Hill Trail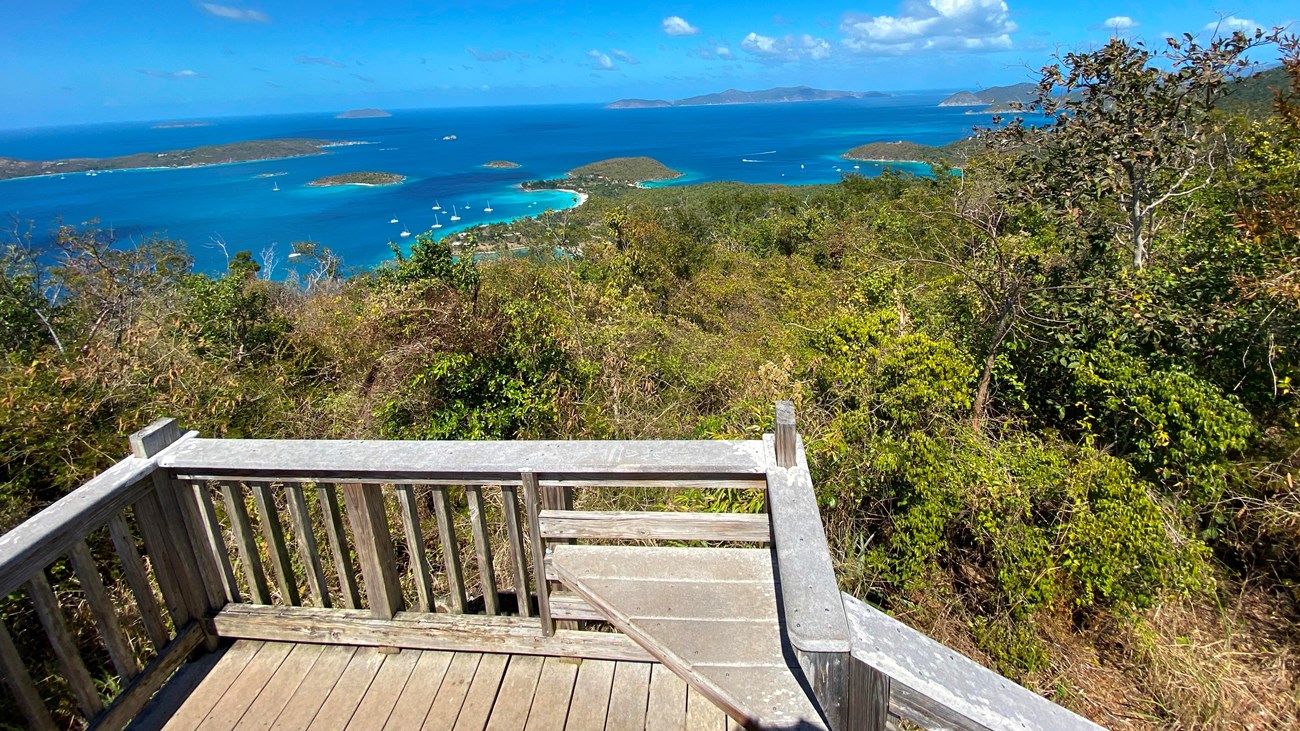 Credit: National Park Service
Rise above it all to spectacular views! The challenging 1-mile hike up Caneel Hill brings you to an observation deck that will make you feel like you are on top of the world, delivering sweeping views of the ocean and St. John's brilliant blue bays.
44. Hike to the Highest Point of St. John
The highest point of St. John is Bordeaux Mountain, which rises 1,286 feet. It provides three picturesque spots to admire Lameshur Bay, which is often speckled with lovely sailboats. You can also see the many gorgeous vistas nestled within the lush landscape. The trail ascends 1,286 feet within a mile, so it certainly is not for the faint of heart, but the descent is a breeze, and you can go for a well-deserved swim or snorkel in the secluded and quiet Little Lameshur Bay.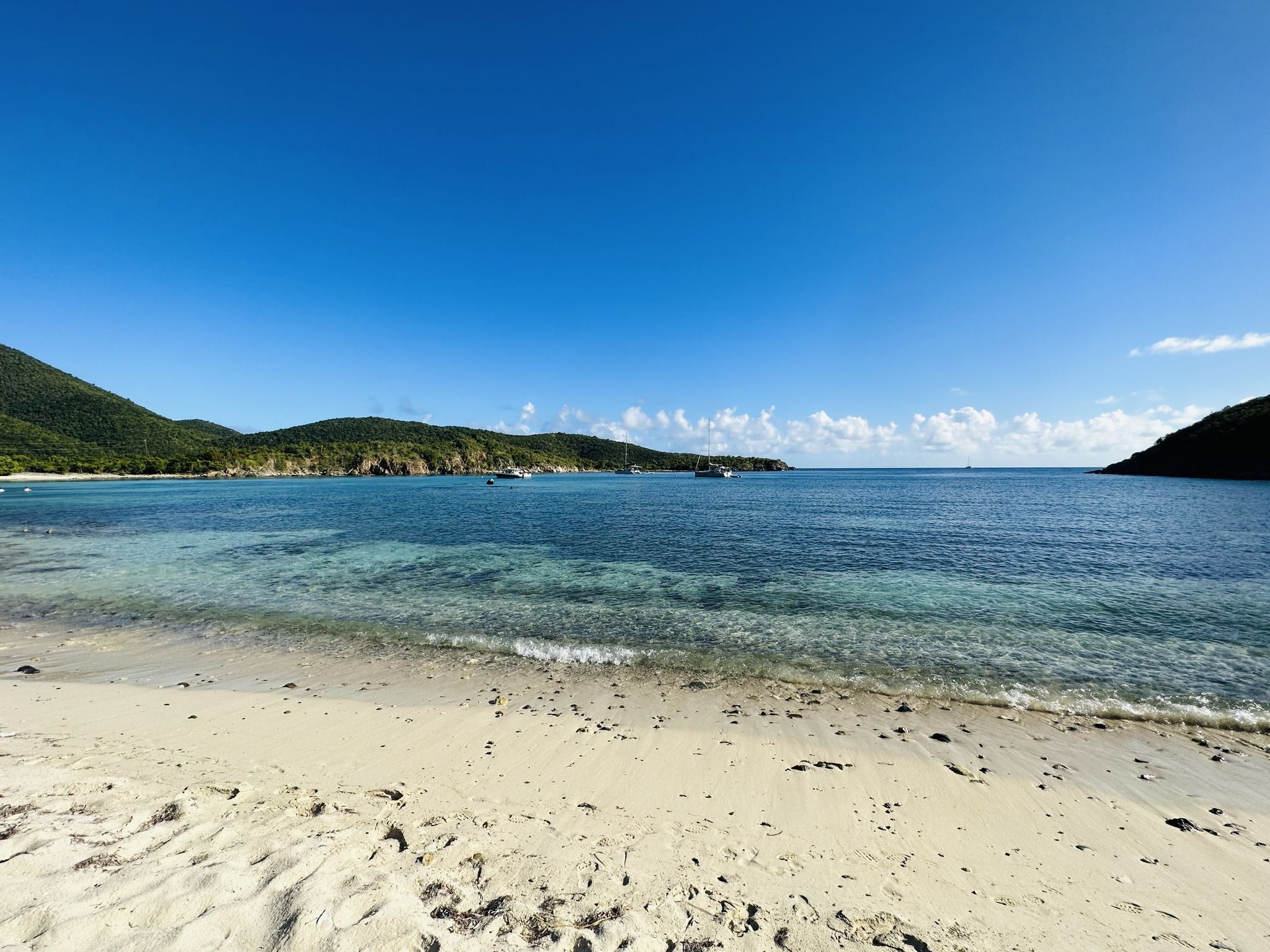 Credit: Sharon Leve on AllTrails
45. Enjoy a Long Kayak Trip to Hurricane Hole
Hurricane Hole is a collection of small, mangrove-lined bays on the east end of St. John near Coral Bay. As the name would suggest, it served as a popular anchorage for vessels seeking protection from tumultuous weather. Hugged by mountains and fortified by a strong mangrove root system, the natural landscape provides fortification for mariners during hurricane season. Nowadays, anchoring is no longer permitted except during emergencies. This, along with Hurricane Hole's remoteness, helps make it one of the best places to snorkel on St. John! The wildlife is free to thrive, so much so that many describe it as a lively and colorful nursery of fish. Check out this review from ElanaERA:
"We spent a week and snorkeled all around St. John. This was the best. We rented a 2-person kayak from Crabby's for $75 for the full day and paddled all around the area. There are plenty of places to safely land the kayak and hop in to snorkel. The coral was healthier than what I've seen in a long time — beautiful colors and lots of variety. The fish were also amazing. It was literally like swimming in a beautiful fish tank. There were also huge number of live conch. I have never seen so many before. Finally, there were no people! We hardly saw any other boats the entire day. The mooring balls were all empty. Just wonderful!"
We hope you enjoyed this ultimate list of the best things to do on St. John, U.S. Virgin Islands! We explored St. John history, St. John nature trails, St. John beaches, St. John food, St. John attractions, and so much more. Have you been to St. John? We would love to hear your advice on making the most of a St. John vacation and are always "beachcombing" for hidden gems to share with our visitors. Much love from Love City!