St. John, USVI, Hiking Trails Map
One of the best ways to truly experience everything St. John and the Virgin Islands offer is by setting out on one of the many available hiking trails. These trails go through accessible boardwalks, historic ruins, bird viewing decks, salt ponds, and many more places! There are a variety of St. John, USVI, hiking trails on the island that people of all ages will enjoy, especially those who aren't experienced hikers, as many of these trails are short and take less than an hour to see in their entirety! So you get stunning vistas and exciting experiences without being an experienced hiker. Just remember to pack plenty of water and sunscreen for everybody, and always bring a map with you to ensure you're on the right path.
Remember that while the St. John USVI hiking trails are beautiful and offer stunning views of the islands and everything they offer, there is still local plant life that you may not have experienced in the past and may be harmful to you. Please take the time to look up what to keep alert for while on the trails: Hikers Beware
What are the Best St. John, USVI, Hikes to Do While Visiting?
The trails of St. John are some of the most unique hikes in the Virgin Islands because they come from old roadway remnants of centuries-old buildings that wind into tropical locations or some of the most stunning beaches. No matter which trails you choose to hike, you can't go wrong with the sights you'll see, but if you're trying to prioritize the best St. John USVI hikes while you're visiting, you may enjoy Reef Bay Trail, it's one of the more challenging hikes but it goes past some of the oldest and tallest trees the island has to offer, Danish sugar plantation ruins, ancient rock carvings, and even through waterfalls during the rainy season. If that hike sounds too tricky, consider the Lind Point Trails, which should take at most 40 minutes if you keep going, but since it takes you past multiple beaches, you may want to take a break and stretch your legs by the water. A third popular hike that's a little more difficult is the Ram Head trail. The trail is rockier than some other trails, but it offers beautiful views of the rocky South Shore, Salt Pond Beach, and on clear days, you can even see St. Croix in the distance! There are so many different types of hikes on St. John that may appeal to different kinds of people, but these are some trails visitors have truly adored.
NORTH SHORE TRAILS
1. Annaberg Ruins Trail - 0.2 miles, 30 minutes
2. Annaberg School Trail - 0.2 miles, 15 minutes
3. Brown Bay Trail - 1.6 miles, 2 hours (not maintained)
4. Caneel Hill Spur Trail - 0.8 miles, 2 hours
5. Caneel Hill Trail - 2.4 miles, 2 hours
6. Cinnamon Bay Self-Guiding Trail - 0.5 miles
7. Cinnamon Bay Trail - 1.1 miles,1 hour
8. Francis Bay Trail - 0.3 miles, 15 minutes
9. Johnny Horn Trail - 1.8 miles,2 hours (not maintained)
10. Leinster Bay Trail/Road - 0.8 miles, 30 minutes
11. Lind Point Trail - 1.1 miles,1 hour
12. Peace Hill - 0.1mile,10 minutes
13. Turtle Point Trail - 0.6 miles, 30 minutes
14. Water Catchment Trail - 1.0 miles, 30 minutes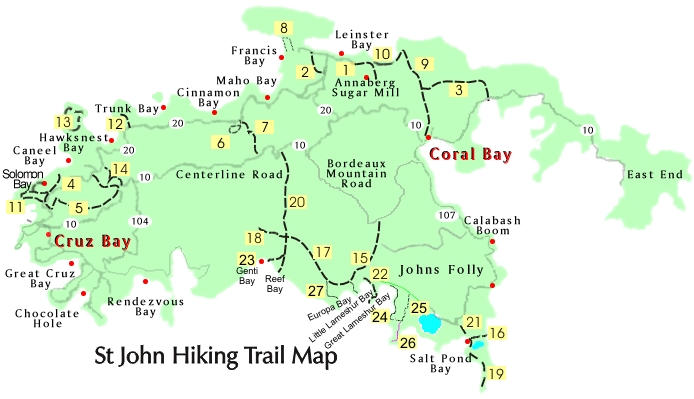 SOUTH SHORE TRAILS
15. Bordeaux Mountain Trail - 1.2 miles,1 1/2 hours
16. Drunk Bay Trail - 0.3 mile, 20 minutes
17. Lameshur Bay Trail - 1.5 miles, 1 1/4 hours
18. Petroglyph Trail - 0.2 mile, 15 minutes
19. Rams Head Trail - 1.0 mile,1 hour
20. Reef Bay Trail - 2.2 miles, 2 hours
21. Salt Pond Bay Trail - 0.2 mile, 15 minutes
22. Yawzi Point Trail - 0.3 mile, 20 minutes
23. Genti Bay Trail - 0.2 mile, 15 minutes
24. Great Lameshur Bay Shoreline Trail - 0.7 miles, 1 hour
25. Tektite Trail - 0.7 mile, 1 hour
26. Cabritte Horn Point Trail (an extension of the Tektite trail)
27. Europa Bay Trail - .25 mile, 20 minutes