Coconut Coast Villas

We are a "beach house comfortable" boutique hotel offering studios, two, and three bedroom vacation condos. Our business philosophy is to offer clean, comfortable, convenient oceanfront vacation accommodations at a fair price.
We are located in a quiet family neighborhood close to town. Our two buildings surround an ocean front pool, hot tub and patio. All of our rooms have large ocean front patios where the sounds of the surf and tumbling rocks will relax you.
All the comforts of home await you. Free wireless internet, satellite TV, queen beds, private baths, air conditioning, fully equipped kitchens, guest laundry facilities, coolers, beach towels, and off street parking. We also have beach chairs and snorkel gear for you to use while on St. John at no extra charge to you!
We have the Caribbean Sea on one side of us and an Audubon Wildlife Salt Pond on the other side. We are intentionally at the end of the road and off the map.
Our on-site managers Dave and Julie will strive to make your experience on St. John relaxing and fun and will serve as your concierge to help you see all that the island has to offer.
Come see for yourself why many of our guests have been returning for almost 15 years. Come experience the Coconut Coast
If you wish to make a reservation or to check availability,
please E-Mail Here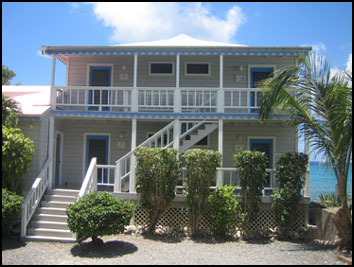 Caribbean waterfront studio suites,
and two or three bedroom condominiums
Coconut Coast Villas, St. John, USVI, sits on the edge of the turquoise Caribbean Sea. The quaint property of only nine oceanfront accommodations, on the outskirts of Cruz Bay, offers an ideal tropical escape. It is the perfect spot for independent travelers, honeymoon couples, and families desiring, a secluded oceanfront location with easy access to adventure.
Fresh new look! Newly updated - Studio, two or three bedroom ocean-front, self catered, vacation condo rentals in St. John, USVI within walking distance to Cruz Bay. With free wireless internet, pool, hot tub, grill and guest laundry facilities. Great for a vacation, wedding or honeymoon. Our villas, located in the United States Virgin Island of St. John, are a convenient and affordable place to take a vacation. Our rentals, consisting of nine units in two buildings, are Non-Smoking and include studio, two or three bedroom luxury condominiums. If you are looking for a villa rental for your next vacation, our villas are the cleanest, most convenient and affordable option in St. John Condo rentals.
St. John villa rentals can be very expensive but ours are a great value and very affordable. St. John, in the US Virgin Islands, is one of the most beautiful islands in the world. The USVI offers all the benefits of the United States but adds the exotic flavors of the Caribbean. So consider Coconut Coast Villas for your next Virgin Islands vacation. They are the best and the most affordable vacation rentals on St. John USVI.
Convenient, clean and quiet, well-appointed rental condominiums in a true paradise. Coconut Coast Villas are one of a very few properties directly on the ocean front. These self catered condos are located directly on beautiful Turner Bay with a stunning view of the Caribbean Sea and conveniently near the pond where the car ferries dock.
We are a small family run boutique condo hotel that offers waterfront accommodations with plenty of off the street parking right behind your unit. If you are looing for a fun and relaxing place to stay that is walking distance to Cruz Bay and only minutes from the amazing National Park with its world famous beaches and hiking trails- then you have found the perfect place to stay - Coconut Coast Villas.
Choose between studio, Two or Three Bedroom Condominiums. All units are ocean front with private porches. Fully equipped with kitchens, private ensuite baths, air conditioning, cable TV and beach chairs, coolers and beach towels. All you need to do is bring your clothes, buy some food and you are ready to relax and enjoy the wonders of St. John. Located directly on the Caribbean Sea in a private bay in a quiet residential neighborhood, the Villas are close to everything but removed from the hustle and bustle of town.
Rates
All Rates are per Night
Additional Conditions May Apply - see details below

Studio

2-Bedroom

3-Bedroom

Summer
Jul 6 - Oct 31

$189

$289

$349

Fall
Nov 1 - Dec 14

$229

$329

$439

Winter
Dec 15 - Mar 31

$289

$389

$559

Spring
Apr 1 - July 5

$229

$329

$439

Additional Conditions
• A 12.5% hotel tax will be added to each nights stay.
• Rates are for double occupancy.
• We reserve the right to limit the number of guests per unit to a reasonable number.
• Additional person charges may apply. The charge is $30.00 per person per night.
• A minimum stay of 3 nights is normally required.
• Some dates (holidays) are subject to a longer minimum stay requirement.
• Any stays of less than three days are subject to a cleaning fee of $75.00 per bedroom.
• Balance is due 30 days prior to arrival.
• Stays of three days or less require a full deposit at time of booking.
• We reserve the right to ask troublesome guests to leave after giving a fair warning.
• There are no refunds for late arrival or early departures - for any reason.
Policies
• Cancellation - Once you reserve a unit, we have a no cancellation policy. You must contact us in writing if you need to change or cancel your reservation.
If we are able to re-rent your unit, there will be a maximum of a 90% refund. If we are unable to re-rent your unit, no refund will be made.
• Travel Insurance - We strongly recommend you obtain travel insurance. We do not refund for personal or natural emergencies.
• Double Occupancy - is defined as two persons per bed. All our beds are queen sized.
Any more will necessitate an additional $30.00 per night per person charge. We do have aero beds available.
• Non Smoking - We are a no smoking property. There is no smoking inside the buildings, on the porches or on the balconies.
There is a smoking area provided away from the buildings.
• Breakage - in the event of damage to the unit or its contents,
we reserve the right to charge you a fee to recover our expenses.
• Termination of Stay - we reserve the right to ask troublesome guests to leave after giving fair warning of our concerns.
• Refunds - there are no refunds for late arrivals or early departures - for any reason
Our oceanfront studio-sized accommodations - comprised of a single well appointed room with a kitchenette,
an ensuite bath and a large shady private porch for dining and relaxing. Perfect for two and some can accomodate up to four people.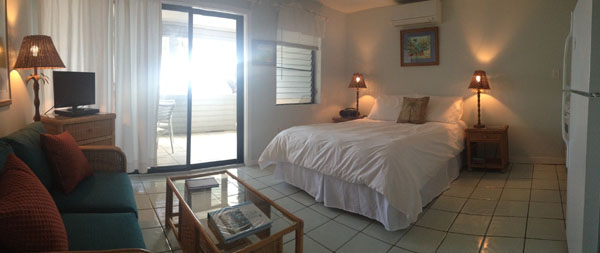 Alamanda Studio

Bougainvillea Studio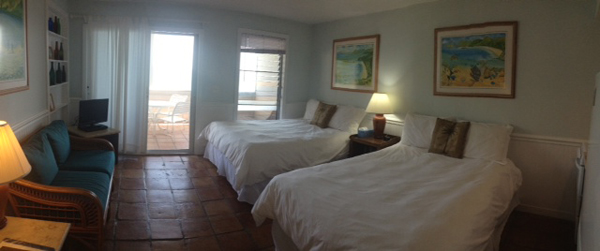 Ginger Thomas is a Studio with 2 queen beds

Lily is a Studio with a second qeen bed in a loft
In addition to the three shown here, there are these other studios also:
Orchid, Poinsettia, and Petrea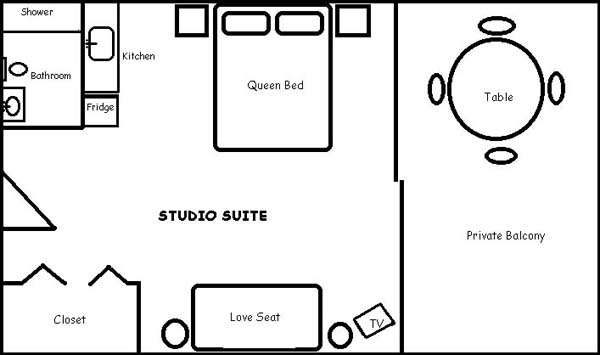 Floorplan
Studio suites feature a private ten by fifteen foot balcony that offers an unbeatable location to soak up the sound of the waves and the sun drenched view stretching for miles, as you look south watching boats sail by.

If you wish to make a reservation or to check availability,
please E-Mail Here


2-Bedroom Suites
A large great room with a fully equipped island kitchen, a sitting area and dining is adjacent to two full bedrooms
each with it's own full ensuite bath. A wide private waterfront balcony overlooks the Caribbean Sea and the pool.
Sit on your panoramic front porch overlooking the salt pond and the nearby palm trees whisper in all directions.
(Note: Our 2 bedroom units do not have an oven - just a toaster oven.)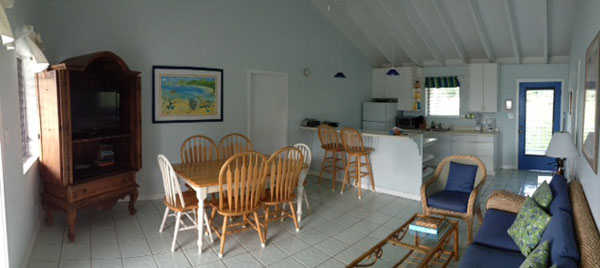 Bird of Paradise, a 2-bd suite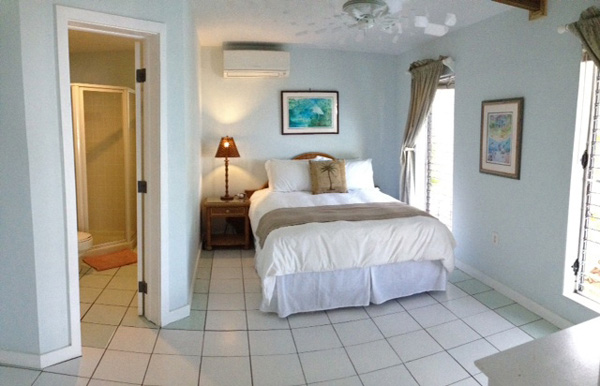 Hibiscus is a 2-bd suite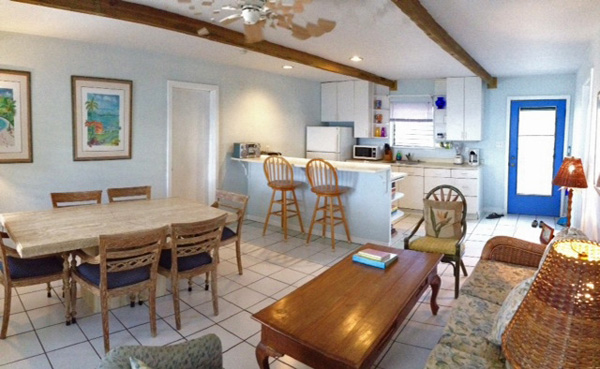 Hibiscus Great room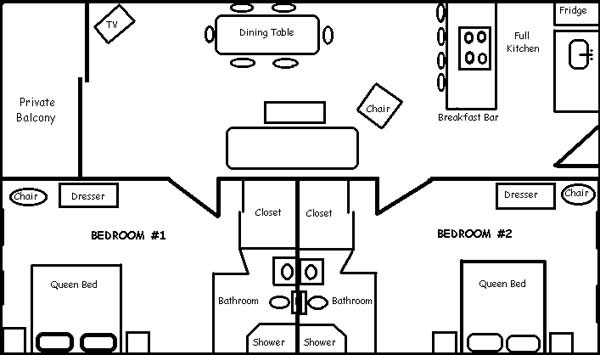 Floorplan


If you wish to make a reservation or to check availability,
please E-Mail Here


3-Bedroom Suites
Three full bedrooms, three full private ensuite baths, two fully equipped kitchens and two balconies
overlooking the Caribbean Sea and the pool.
A welcoming front porch with comfortable chairs overlooks the salt pond
and the constantly changing wildlife and views of St. Thomas and the setting sun.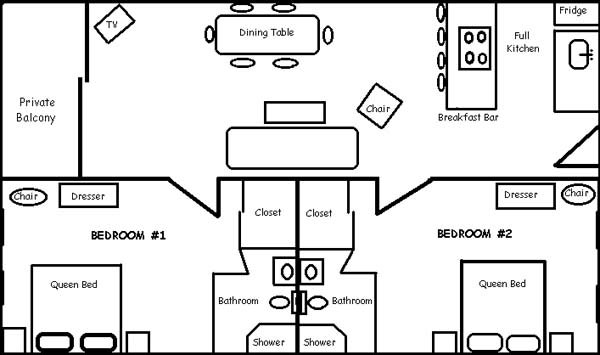 Our three bedroom units are made up of a two bedroom
and an adjoining studio with a connecting door,
making three private bedrooms with two separate entrances.
See the two floor plans above.
| | |
| --- | --- |
| The Pool at Coconut Coast | The view from the gate :) |
Amentities

Now with WiFi in all units!


STUDIO SUITES

TWO BEDROOMS

THREE BEDROOMS

Our three bedroom suites are comprised of a
Two-Bedroom Suite with an adjoining door into a studio suite.

So the amenities would be that of both a Two bedroom suite and a studio suite.

Kitchenette w/ stove & fridge

Kitchenette w/ stovetop & fridge

*Three of our studio suites have more than one Queen bed.

Lily Suite has two Queen beds, one of which is located in a half loft.
Ginger Thomas has two Queen beds separated by an end table.
Poinsettia suite has one Queen bed and one daybed.
Concierge
1. Transportation: FREE Ferry pick-up and drop-off. We will make every effort to pick you up upon your arrival to the Cruz Bay ferry dock.
During the high season we may have several groups arriving on the same ferry and we will do our best
to get everyone to the villas in a timely manner.
There will be instructions and additional information in your confirmation letter.
It is extremely important that you provide us with your complete itinerary and follow the instructions carefully.

2. Provisions: Imagine arriving at your villa after a long day of traveling to find your cabinets and refrigerator stocked with foods and beverages you selected.
No need to go out to eat or to the store. Just relax and let us do the shopping for you.

We have two ways to order:
A.You can select one of our pre-designed orders (below) and mention it when you send an email inquiry.
B. You can send us a "custom" list and we'll go get it! See the last two options on the Provisions list below.
3. Beach supplies: We have free coolers, beach towels, beach chairs, beach mats, and snorkel gear available for guest use.
Provisions:
Dave's Famous Rum Cake - $25.00
The perfect dessert while in the Caribbean or anywhere else for that matter.
This glazed pecan crusted rum delight is made with nearly 2 cups of Cruzan rum. Contains nuts!
Dave bakes them on site and can leave the nuts out for those with nut allergies. 1 rum cake.
Skin Protection - $30.00
Don't take home any unwanted "souvenirs" from St. John.
Protect your skin and let us pick these island necessities up for you.
1 8oz. pkg. of sunscreen 1 6oz pkg. of deet free insect repellent.
Evening snack - $85.00
The perfect snack to have in your room when you arrive
after traveling or to enjoy after dinner on you private balcony.
1 bottle of red wine 1 six pack of beer 1 pkg crackers 1 lb salami 1 lb cheese.
Light breakfast - $48.00
A light breakfast that is enough to get you started on your first morning.
1/2 gallon of orange juice, 4 asst. muffins, 4 individual size yogurts, and fresh fruit.
Picnic lunch - $128.00
All the fix-ins for a day at the beach. ! box baggies 1 loaf of bread 1 lb sliced lunch meat
1 lb sliced cheese 1 head lettuce 2 tomatoes 1 jar peanut butter 1 jar of jelly
1 12 pack of beer (cans) 1 12 pack of soda 2 bottles water 1 pkg of wheat thins 1 pkg cookies.
Full breakfast - $219.00
Most everything you need for a home-cooked breakfast. 1 doz. eggs 1 lb. bacon 1 lb. coffee
1 pt. half & half/creamer 1 pkg. butter/margarine 1 lb. cheese 1/2 gallon milk 1/2 gallon orange juice
4 asst. muffins 4 bagels 1 pkg. fruit 1 pkg cream cheese 1 pkg hash browns or similar item 1 pkg. english muffins.
The Liquor Store - $150.00
2 bottles of wine valued $20-$25 each 1 bottle of Cruzan light rum
1 bottle of Cruzan spiced/flavored rum 1 12 pk. beer 2 2 liter of soda 2 lime 1/2 gallon fruit juice.
Stand up Paddle board rental - $50.00
Rent one of our stand up paddle boards for the day (9am-3pm).
We will transport you to and from Maho Bay and provide a life preserver to be worn while on the board.
We have two boards and they are rented on a first come first serve basis.
A loss/damage form & liability waiver must be signed for each intended rider.
Persons under 18 will need a parent to sign for them.
General Provisioning 1 - $75.00
This is a fee charged to you for the shopping and stocking of up to $250.00 of groceries selected by you.
We collect the fee when you book your reservations and we will charge your credit card the day before you arrive
for the actual cost of the groceries unless other arrangements are made.
Just email us your list and we will go and get it!
We will make every attempt to get exactly what you order but may have to substitute some items for like items.
General Provisioning 2 - $125.00
This is a fee charged to you for the shopping and stocking of up to $400.00 of groceries selected by you.
We collect the fee when you book your reservations and we will charge your credit card the day before you arrive
for the actual cost of the groceries unless other arrangements are made.
Just email us your list and we will go and get it!
If you wish to make a reservation or to check availability,
please E-Mail Here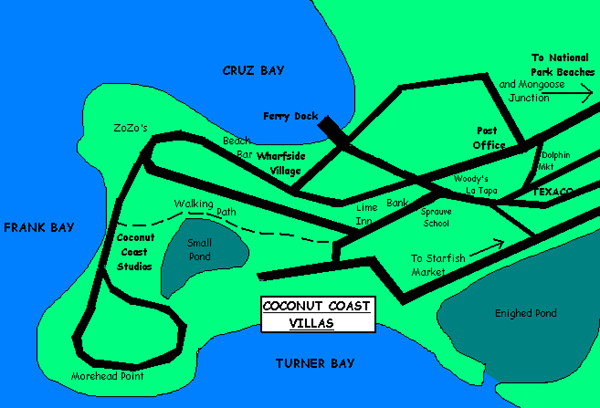 Location in Cruz Bay