Kamabesu Villa
Kamabesu Villa

Kamabesu Villa, pronounced kuh-Mä'-beh- soo', overlooking quiet Fish Bay on tranquil St. John
in the US Virgin Islands, is the perfect place to relax and unwind.
The screen enclosed verandah offers stunning views of Fish Bay on St. John's
south shore and refreshing tropical breezes keeping the temperatures at bay.
Kamabesu is in a private residential location only minutes to the walking paths of Reef Bay,
Ditleff Point, Fish Bay and Klein Bay beaches. The shallow reefs and shoals in these waters offers great snorkeling
making them a must see during your visit. St. John is noted for the fine white sand beaches on its north shore:
Hawksnest, Trunk, Cinnamon, Maho and Francis Bays just a short 10 to 15 minute drive.
Kamabesu is only minutes from downtown Cruz Bay, the ferry dock, grocery shopping at the Market Place,
multiple restaurants and the fine shops of Mongoose Junction and Wharfside Village.
Kamabesu is conveniently located near all of the island services yet off the beaten path
affording you peaceful and serene accommodations.
Expertly decorated, Kamabesu offers a relaxed atmosphere with all the comforts.
This recently refurnished interior reflects the best of Caribbean simplicity in taste and design.
Guests

Beds

Bedrooms

Baths

2 to 12

4 king
1 Q airbed

5

5
Main Villa includes 2 King Size Temperpedic Beds w/ 2 full baths,
Laundry, Kitchen, Living area and Screened in Porches, and an additional queen Aero-Bed.
The 'Club House' features 2 Bedrooms w/king Tempurpedic beds, 2 full baths, Kitchenette & Laundry.
___

Kamabesu Villa is available as a 2 bedroom house and fits a max. of 5 adults or 4 adults and 2 children (under 13 years old).
The Club House is rented by the room. Each room can sleep 2 adults and fit one Pack n' Play.
A maximum of 4 adults and 2 infants can stay in The Club House.
WEEKLY RATES DETAILS:
Sleeps 2 – 16 people
*Up to 14 adults and 2 children can comfortably sleep on property
*Cribs available and can increase head count to 16 souls with 2 babies in cribs for an additional small fee
*Rates do not include 10% VI Tax but do include cleaning fees

In Season

Dec 15 - April 15
with holiday exceptions
$4900/wk 2-4 ppl 2 Bedrooms Main House
$5450/wk 4-6 ppl 3 Bedrooms
$5950/wk 6-8 ppl 4 Bedrooms
$6900/wk 8 -10 ppl 5 Bedrooms
$7250/wk 11 - 13 ppl 5 Bedrooms plus Queen Aero Bed

Shoulder Season

April 16 - Aug 31
with holiday exceptions

$2900/wk 2-4 ppl 2 Bedrooms Main House
$3500/wk 4-6 ppl 3 Bedrooms
$4000/wk 6-8 ppl 4 Bedrooms
$4800/wk 8 -10 ppl 5 Bedrooms
$5400/wk 11 - 13 ppl 5 Bedrooms + Queen Aero Bed

Off Season

Sept 1 - October 31
$2500/wk 2 Bedrooms 2-4 ppl
$2900/wk 3 Bedrooms 4-6 ppl
$3300/wk 4 Bedrooms 6-8 ppl
$3900/wk 5 Bedrooms 8-10 ppl
$4400/wk 5 Bedrooms 11-13 ppl

Holiday Rates

Thanksgiving: $3,250 per week up to 8 people.
Email Inquiry for other Holiday Rates.
OtherHoliday's Include:
Christmas
Carnival - 4th of July
New Year's
President's Week
$125 per person per week additional for up to 10 adults and 2 infants under the age of 2.

Features:15 x 28 Ft Concrete Pool with Extra Large Trex Deck,
Pergola, Gazebo, Hammock, Outdoor Shower, Grill and Dining Area

Kitchen Details
Kamabesu's kitchen is fully equipped including a refrigerator, dishwasher, microwave, coffee maker, oven/stove top, pots, pans, serving platters and even an ice machine for blended drinks! This kitchen is capable of preparing any meal, from quiet intimate dinners on the cool verandah to a family BBQ with burgers and ribs on the gas grill outside.

Bedroom Details
The two bedrooms in the main house have king sized Temperpedic mattresses and their own bathrooms with over-sized showers. In addition, there is a Queen Size Framed Aero Bed which easily fits into either suite. In the detached lower unit there are 2 newly constructed suites boasting individual full bathrooms, kitchenette and laundry area. Kamabesu can comfortably sleep 10 adults not including toddlers in the pack n' play. The villa has central air conditioning throughout and a generator for those infrequent times that there is a power outage.

Amenities
The house is designed for the comfort of spirit, body and soul. Primary focus remains on the scenery with special care being given to the tropical garden lining the driveway. Amenities like the large screen TV, wireless high speed internet access, vaulted ceilings, mosaics and stained glass windows only add to the pampering affect of the natural surroundings.

Caretakers
Caretakers, Katie and Bryan, are on site and will gladly provide recommendations for dining, activities and shopping. They will arrange to meet you at the dock and provide a shuttle to the house from the dock if your arrival time is after your rental car company closes. You can have Kamabesu's kitchen completely stocked prior to your arrival, saving you the trip to the market and letting you start your vacation immediately. Arrange for delivered meals or meals prepared on premise as well, let Katie and Bryan make your vacation carefree in every way. Katie & Bryan live in the lower apartment of the main house using a separate driveway and lower entrance. They and their friendly dog will remain only as visible as you like.

Activities
The owner's great loves include beach lounging, gardening, cooking, literature and movies. Kamabesu Villa features multiple amenities for these hobbies from the extensive Library of Books to the Catalogs of Music, DVDs, Games and Videos as well as all the tools a pampered chef could desire.
Electronics
Movie classics such as Bridge over the River Kwai, Rear Window, The God Father I-III, Braveheart and Moulin Rouge are just highlights in the collection. Surround sound from speakers mounted on the ceiling transforms the living room into your own viewing theater and the rustling of the Caribbean winds only enhances the experience. WiFi internet available on entire property. Have to work while on vacation, do it by the pool!
Gardens
Lush gardens with Orchids, Oleander, Hibiscus, Bougainvillea and Fan Palms border the driveway providing privacy and improving the views through the eyes and nose. Fruit trees like mango, papaya, coconut, lime and genip (a local fruit) produce seasonally on the property.
Beach Gear
Beach lounging should be treated like an art form, or so believes the sisters of Kamabesu. The house has beach chairs, coolers, rafts, noodles, snorkeling gear, beach towels and ice packs all which are essential for a day at the shore. The outdoor shower, located to the right of the entry, is powerful enough to scrub sandy feet clean but also soothing as it washes away the saltwater from threaded locks.
Kitchen
While the kitchen is complete with salad spinner to crepe' pan and everything in between and the gas grill boasts a side burner, making dinner and clean up an easy feat, the welcome book also lists multiple restaurants and delivery options so even Mom can have the vacation she deserves! So whether you're making French Gourmet, grilled catch of the day or reservations, Kamabesu has everything you need.

Kamabesu Villa has expanded to include the newly constructed Club House. The Club House has two King size temperpedic beds and two full bathrooms with kitchenette and laundry. It is adjacent to the pool and accessible by the lower driveway or take a stroll up the mosaic inspired stairway to the main house. The Club House has two bedrooms, The Blue Room & The White Room, which can be added on to the main house expanding your rental space individually or the entire Club House.
There is air-conditioning in each bedroom but with fans on and interior doors open the AC units will easily cool the entire space including bathrooms and kitchenette. The property generator is available to keep the main house fully operational and also reaches to The Club House keeping fans and lights on during the occasional power outages experienced on island. An ice-machine continually produces fresh ice and with the building's easy location next to the pool the blender all but calls your name to indulge in the sumptuous frozen drinks the island is known for. Store your beverages and snacks in the mini-fridge and wake with a cup of coffee by the pool or under the gazebo enjoying the island breezes before heading up to the main house for breakfast


Blue Room


White Room


Kitchenette


Bathroom
Privacy
While the property easily sleeps 10 by adding The Club House rental to Kamabesu's Main house the property only rents to one party at a time allowing smaller groups of 2-6 to rent the main house and still enjoy the privacy of the site. The Club House is only available as an add on to the Kamabesu Villa and does NOT rent separately. There is never more than one rental party on property at any time. The Club House is located on the lower level near the pool. The pathway leading to the main house is for the private use of the guests in The Club House and Kamabesu Villa. Caretakers respect the space of the renters and are discreet in their presence using the lower driveway for parking and entry to their own apartment.
Kamabesu Villa furthers her commitment to her environment by installing solar panels, gray water systems,
over 60,000 gallons of filtered cistern water, renewable resources like bamboo and teak furniture,
vegetable and extensive fruit gardens all made available to our guests.

Location on St John: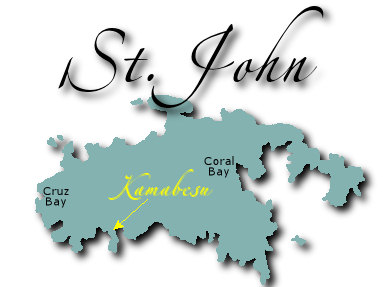 How Kamabesu got her name
Kamabesu (pronounced Ka-MA-ba-sue) is named after the 4 sisters of Joe and Paula Tarta.
The first two letters of their girls names create the villa's name: Katie, Maggie, Betsy and Susan.
Kamabesu Villa is a place where families feel welcome and comfort is primary. Like her namesakes,
the four sisters whom inspired this house, Kamabesu embodies casual sophistication.
Amenities
Business

Living

Entertainment

Kitchen

Convenience

Wi-Fi Internet access
Central A/C
Temperpedic mattresses w/all linens/towels provided
Washer & Dryer
Beach Chairs
Pool
Gas Grill
A generator should the power go out
Living Area with screened in porches
large-screen Television
CD Player
Stereo System
DVD Player
Satellite TV
Music library
Fully Equipped kitchen:
refrigerator (large in main house- mini in Club house)
dishwasher
microwave
coffee maker
oven/stove top
pots & pans
serving platters
ice machine

Coolers
Concierge Service Available
Dock Pickup included in rental fee
Hospital grade quality filtered drinkable water