Best St. John USVI Beaches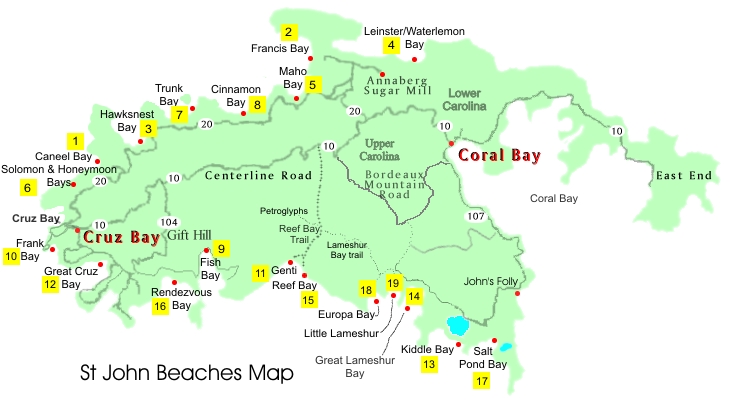 St. John is a beach lover's dream. Plan your beach-hopping travels by marking must-see locations on a map. You'll find some of the best US Virgin Islands beaches right on St. John. This St. John, USVI, map with beaches was designed to highlight every beach on the island so you can choose your destinations based on your preferences.
NORTH SHORE BEACHES
1. Caneel Bay - Visit Caneel Bay for the view and great snorkeling opportunities but please note that as of 2023, the resort is closed for repairs after a devastating hurricane.
2. Francis Bay - This is one of the best St. John USVI beaches for families. It's not as crowded as other beaches and has plenty of shade.
3. Hawksnest Bay - There are plenty of snorkeling opportunities in Hawksnest Bay and parking.
4. Leinster / Waterlemon Bays - This is the most popular spot for snorkeling because there's so much beautiful wildlife to discover, including coral and turtles.
5. Maho Bay - Turtle lovers must visit Maho Bay, as it's the best place to find sea turtles. You can also hike to America Hill Great House, a 19th-century Caribbean manor ruins.
7. Trunk Bay - You'll have to deal with the crowds, but visiting Trunk Bay is worth it. It's one of St. John's most popular visits for a reason.
8. Cinnamon Bay This is the longest beach on the island, as you can see from the St. John USVI map. With beaches this size, it's essential to know where to find the best parking, snorkeling, and where to find shade at different times of day. This is the only beach on the island where you can go camping.
SOUTH SHORE BEACHES
9. Fish Bay - Observe some unique flora and fauna at the Fish Bay wetlands, home to black and red mangrove trees.
10. Frank Bay - There is plenty of parking here and a wildlife preserve where you can see wild iguanas.
11. Genti Bay - Be aware that there is limited parking at Genti Bay, and it fills up fast. Visitors will be rewarded with lush, unspoiled forests to visit on nearby hiking trails.
12. Great Cruz Bay - Along with a popular beach, you'll find a lot of shopping and restaurants in Great Cruz Bay.
13. Kiddel Bay - You'll find a cobble beach instead of a sandy one here, but the payoff is a quiet respite from the crowds.
14. Great Lameshur Bay - Visit this remote bay for a beautiful sandy beach and explore the ruins of an old sugar mill.
15. Reef Bay - The Reef Bay trail provides some of the best hiking on the island. Featuring old petroglyphs, it leads to a secluded sand beach.
16. Salt Pond Bay - The crystal clear water here is perfect for swimming and snorkeling.
17. Europa Bay - This cobble and coral beach is one of the island's least visited, but it's easy enough to get there via the Lameshur Trail.
18. Little Lameshur Bay - This rugged beach is out of the way but will reward you with a great picnic area and some of the island's best snorkeling.