St. John, USVI, Map: Plan Your Virgin Islands Getaway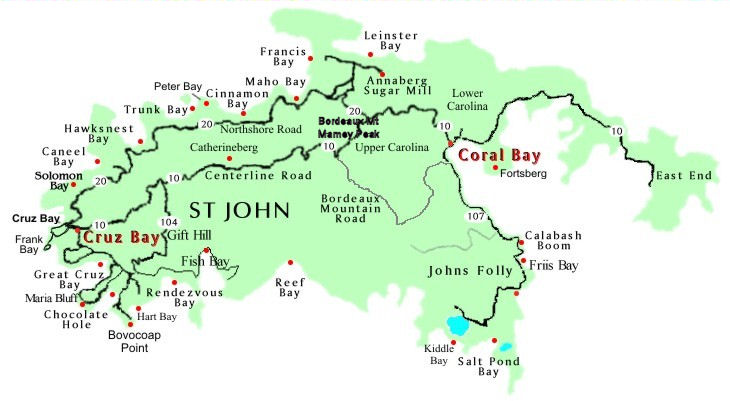 While researching a tropical getaway to St. John, you will likely learn about the vibrant culture of Cruz Bay or the soft sand beaches of its various bays. There are plenty of places you'll want to go, but planning your trip will require you to map out the locations of everything you add to your itinerary. Take a look at our St. John map to get started figuring out what to see and do.
Notable Points of Interest on the St. John, USVI, Map
Plotting Out Your Vacation
You may find yourself overwhelmed by the sheer number of possibilities on St. John, so planning is key to making the most of your visit. Start by marking the Cruz Bay ferry dock on your St. John, USVI, map, as it's where you'll likely arrive on the island. Then, mark everywhere you want to go. Perhaps you want to explore the hiking trails at Virgin Islands National Park, or head down to Cinnamon Bay for some fun on the beach, or have some tacos on the water at Lime Out in Coral Bay, or go snorkeling at Waterlemon Cay. Once you've mapped out everywhere you want to go, you should be able to see whether all of your dots are clustered in one area or spread out all over the island. Then, you can determine the most logical place to stay and start grouping together nearby sites to plan out your days.