St. John, USVI, Ferry Schedule and Car Rentals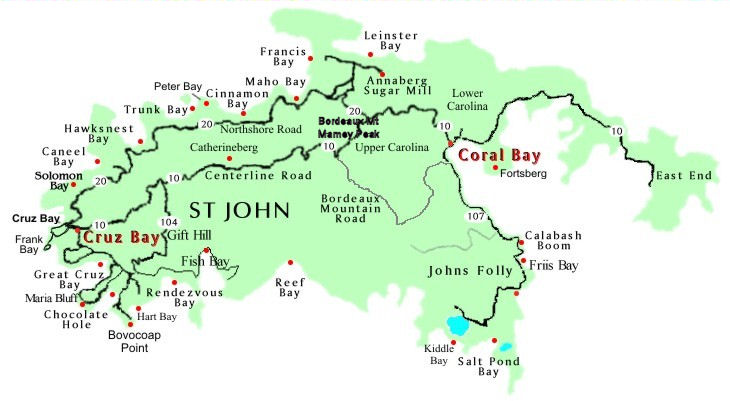 In order to make your stay with us as carefree and enjoyable as possible, we have put together a little additional information that might help you. Many of our villas offer a meeting service at the ferry, but not all of them. I have included below information on car rentals and ferry information for your convenience.
After you arrive at the airport on St Thomas (STT) you have a couple of car rental and ferry options.
And a reminder: we drive on the left here in the islands!
There are two options:
If you rent a car on St John, you will need to take a taxi from the airport to the passenger ferry (either Red Hook or the Charlotte Amalie) and then pick up your car once you get to St John (Cruz Bay).
If you rent a car on St Thomas at the airport, you will take the car ferry to St John (Cruz Bay) Please note last ferry time!
Option 1
These are the St. John car rental companies:
L&L Jeep Rental 340-776-1120
Courtesy 340-776-6650
Hertz 340-777-3700
C & C 340-693-8164
O'Connor 340-776-6343
St John Car Rental 340-776-6103
Denzil Clyne Car Rental 340-776-6715
Hospitality Car & Jeep Rentals 340-693-9160
Penn's Jeep Rental, Inc. 340-776-6530
Spencer's Jeep Rental 340-693-8784 or 888-776-6628
Cool Breeze Jeep & Car Rental 340-776-6588
Passenger Ferry info
as of 12/1/09 through July 2010
Red Hook Ferry ($6.00/adult, $1/child & $2.50 per luggage item):

First boats leave Cruz Bay on St John at 6:00 AM and every hour on the hour until 11 pm.
First boats leave Red Hook on St Thomas at 6:30, & 7:30 AM, then 8 am and every hour on the hour until midnight.

Charlotte Amalie Ferry ($12.00/adult, $3.50/child, & $2.50 per luggage item):

Leaving St Thomas 10 AM, 1 PM, and 5:30PM.
Leaving Cruz Bay, St John 8:45 AM, 11:15 AM, and 3:45 PM.
Option 2
Many people find it more convenient (and economical) to pick up a rental car at the airport on St. Thomas, and to drive to the car ferry ("the barge") in Red Hook. My understanding is that only a few of the rental companies allow their cars to go to St John. The Budget Car rental does, and is located at the airport.
Budget Car Rental on St Thomas: 1-800-626-4516 or 340-776-5774
Budget Car Rental St Thomas-St John
Dependable Car Rental will allow their cars to go to St John also, but does not provide service of vehicles on St John if it were to break down. They are 3 minutes from the airport, and offer shuttle to and from.
Dependable Car Rental on St Thomas: 1-800-522-3076
Car Ferry info:
Round trip with car is approximately $50, including passengers. There are three different companies with ferries, all leaving from the same location, with different schedules. One runs every half hour from 6:30 am to 6:30 pm from Red Hook. Some run on the hour (every two hours). The car ferry runs daily, 7 days a week. Weekends skip the first morning run each way.
Take note of the last ferry time to St John - 6:30 PM - and adjust your flights accordingly.
The car ferry schedule:
St. Thomas, Red Hook to St. John, Cruz Bay
Boyson's Inc. General II & Mister B (340) 776-6294

Rates: $50 roundtrip, $30 one-way.
Mon-Sat: Every hour on the half hour from 6:30 am to 6:30 pm
Sunday: Tthe first departure is at 7:30 am.

Capt Vic which is owned by Love City Car Ferries is out of dry dock and is currently operating its normal schedule our prices have changed round trip is $45.00 and one way is $30.00. We take reservations on our website www.lovecitycarferries.com

Leaving St. Thomas: *7am weekdays only, 9am, 11am, 1pm, 3pm, 5pm, 7pm
Leaving St. John: *6:15am weekdays only, 8am, 10am, 12pm, 2pm, 4pm, 6:15pm